Kapil Sharma apologizes to Sunil Grover after he skips shoot, hints at leaving show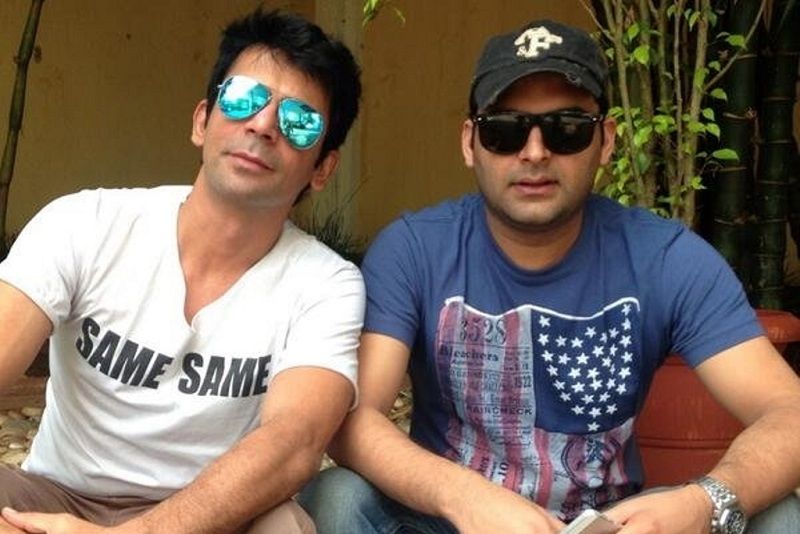 After comedian Kapil Sharma got into a mid-air scuffle with co-star Sunil Grover, prompting him to consider quitting the show, the former issued a public apology for the incident.
The 35-year-old comic took to his Twitter handle and wrote, "Paji @WhoSunilGrover sry if I hurt u unintentionally.u knw vry well how much I luv u. M also upset .love n regards always:)."
Prior to his apology tweet, 'The Kapil Sharma Show' host acknowledged the issue in a Facebook post yesterday.
"Hi.. good morning friends .. was celebrating my best time n suddenly I heard a news about me n sunil paji fighting.. first of all see where it is coming from.. what r the intentions behind this.. if I fought with him in the flight then who saw it n informed u.. is he trustworthy..? Some people enjoy these kind of stuff.. we eat together .. we travel together.. I meet my brother once in a year.. n spending almost everyday with my team.. specially sunil .. I love him.. I respect him.. yes I had a argue with him.but r we not normal people..?I shouted at him first time in 5 years .. itna to chalta hai bhai," Sharma posted.
"We will sit n talk that where is the problem.. I love him as a artist as a human being.. he is like my elder brother.. why so much negativity all the time.. I respect our media.. there r some other serious issues which we need to focus. Is me n sunil's issue is so important n realted with the security of my country ..? We spend a lot of time together rather then our families .. n sometime it happens in family.. its our family matter.. we will sort this out.. zyada maze mat liya karoo. OK now m tired typing .. n one more thing.. I m going for the final schedule of Firangi. Hahahahaha.. sorry again promotion.. thank u so much for ur love n blessings… keep smiling n stay happy always :)) love u all (sic)," he added.
In response, Grover tweeted "Bha ji! Yes, You hurt me deeply. Working with you has been a learning experience. Just one advice start respecting human beings also apart from animals. All are not as successful as you are. All are not as talented as you are. But if they all are talented like you, who will value you. So, have some gratitude towards their existence."
"And also, If someone is correcting you, don't abuse that person. Refrain from using foul language In front of women who had nothing to do with the stardom you carry, they are by chance just traveling with you. Thanks for making me realise it was your show and you have power to throw out anybody, anytime. You are the wittiest, and the best in your field. But don't act like a 'God'. Take good care of yourself. Wish you lot more success and fame," he added.
The comics reportedly had a fight while they were flying down with their team to Mumbai from Melbourne, Australia after a show.
During the flight, Sharma allegedly got drunk and assaulted Grover physically and verbally.
Following the spat, there were rumours that Grover, a key actor, has decided to quit the show. He even skipped the show's Monday night shoot along with fellow comic Chandan Prabhakar.
However, when a leading daily contacted Sharma to confirm if the news was true, he stated that he has not given up on Grover and is confident that they two will work things out.
In the past, when the two comics had gone their separate ways, the show's ratings had nose dived. As a result, both show's team and the channel are trying to restore the status quo.