Landslide on Mumbai-Goa highway near Mahad, traffic affected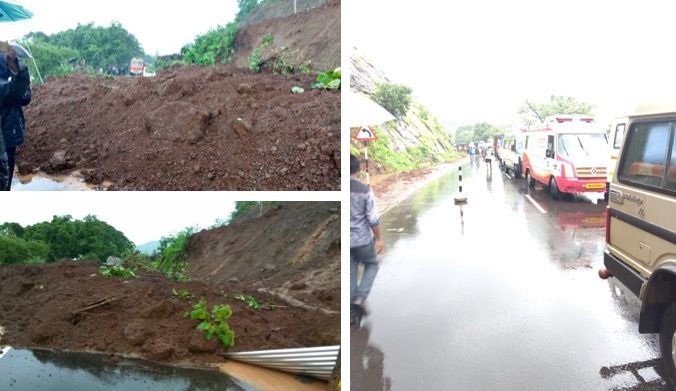 Traffic on the busy Mumbai-Goa highway came to a standstill early morning on Thursday following a landslide near Mahad.
The landslide took place around 6 am today near Hotel Neelkamal in Kemburli. The area is located in the vicinity of Savitri River in Mahad on National Highway 66.
While the incident did not result in any loss of life, hundreds of vehicles were stranded as the debris blocked a major portion of the Mumbai-bound lane of the highway.
The mishap brought traffic movement to a complete halt for a few hours, resulting in queues going as far back as several kilometres on the Mumbai-Goa highway.
Despite the best efforts of Mahad city police officials, vehicular movement on both lanes was affected due to lack of an alternative route.
The flow of traffic was partially restored around 10 am, roughly four hours after the landslide, after some of the debris was removed with the help of JCB.
The vehicles are currently moving at a slower pace from the affected stretch, due to which it might take a few hours to restore normalcy.
Mahad witnessed torrential rainfall in the last 24 hours. The rainfall, along with the ongoing work on widening of the highway to four-lanes, is suspected to have caused the landslide. The area, incidentally, is prone to landslides during monsoon.
Meanwhile, rainfall activity slowed down slightly in Mumbai today morning. However, IMD has forecast heavy rainfall in several parts of the city in the next 24 hours, along with a 3.38-metre high tide at 4:33 pm.
Heavy rainfall wreaked havoc in the city earlier this week, resulting in the collapse of a road over bridge at Andheri, which rendered lakhs of rail commuters helpless for several hours.