NGO gets 15 artists to depict farmer's plight on canvas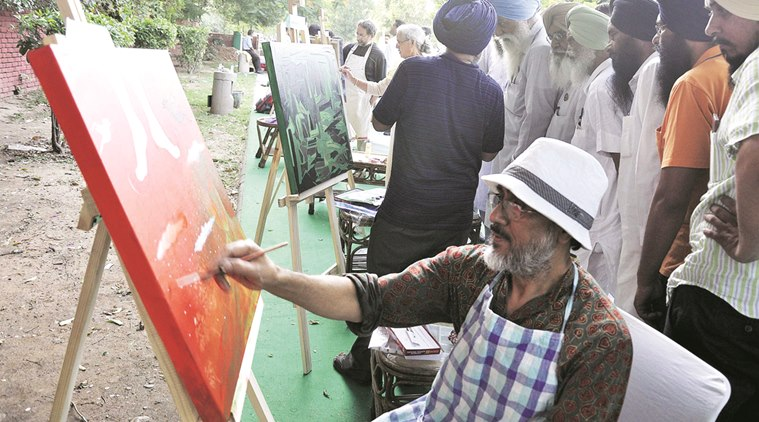 Local Press Co 5-point Snippet
1. In order to highlight various farmers' issues, Dialogue Highway – a non-profit organisation, organised a painting workshop at Sukhna Lake in Chandigarh on Sunday.
2. 15 artists painted and portrayed issues faced by Indian farmers. These paintings will be collected and taken across the country on a travelling exhibition starting from 12 colleges across Delhi, Mumbai, Marathwada and Pune. The paintings included abstract elements and colors which portrayed debts, industrialization, lack of support and other problems faced by the farmers.
3. Artist Viney Vadhera painted an effect of a farmer's death on the ecosystem, while artist Sanjeev Kumar portrayed the two phases of farmer's life where a good yield through his hard work is shared by everyone but he is given no support when he faces hardships.
4. The initiative was appreciated by Bharatiya Kisan Union workers and farmers from Ludhiana, Faridkot, Patiala etc. The Union president, Balbir Singh Rajewal also told Indian Express, "The major reason behind farmers' plight is the government's indifference towards them. Farmers are not in the agenda of the government."
5. Devinder Sharma, managing trustee Dialogue Highway, also spoke to the leading daily and was quoted saying, "Farmer suicides is a relevant issue, but sadly is confined to only a section of society while the urban elite is not bothered about it. This event aims to sensitise people about the importance of the issue. If we are aware, only then can we bring about change."