Not again! Namotel launches 'Acche Din' smartphone at Rs 99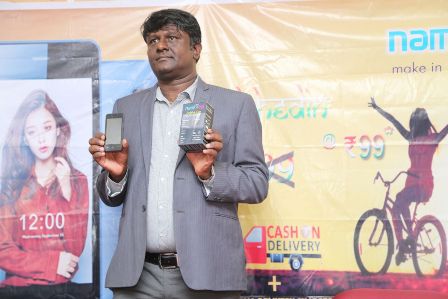 Local Press Co 5-point Snippet
1. If the Ringing Bells Freedom 251, priced at Rs 251, didn't catch your fancy, the Namotel 'Acche Din' priced at Rs 99 just might. The manufacturer has already started accepting orders and will continue to do so till May 25th.
2. The biggest difference between the two ultra-affordable phones, apart from the pricing of course, is that in comparison the Freedom 251 actually seems like a viable option; 'in comparison' being the focus keyword here. Even Namotel claims the phone is a part of the 'Make In India' initiative, but has not received any official grant or permission from the government.
3. Promoter Madhava Reddy, in a press conference on Tuesday, was seen marketing the world's cheapest smartphone. He claimed that the Rs 99 3g smartphone will feature a 4″ screen, 1.3 ghz quad core processor, 1gb ram and 4gb storage. Although Reddy mentioned that the actual cost of Rs 2999 was slashed to Rs 99, and that the smartphone will attract a small 'membership fee' + cash-on-delivery charges, the claims don't end there. The manufacturer will also offer 1 year repair/replacement warranty.
4. However, like Freedom 251, Docoss and mPhone, there's plenty wrong with the offering. The list includes a skewed booking process, no information about the delivery date, unit availability and no known history of the manufacturer. Even the website is displaying a 'Resource Limit Is Reached' error message. But, what separates Namotel from it's competitors, is the fact that offers a range of devices. The most expensive of which, the VVIP, is priced at Rs 1,99,999 and features a gold plated body.
5. While the jury is still not out on whether the manufacturer can deliver on its claims, the surge in the number of 'ultra affordable' smartphone manufactures surely calls for a stringent law that protects customers against any possible foul play.