Railways ties up with Google to digitise, showcase its rich heritage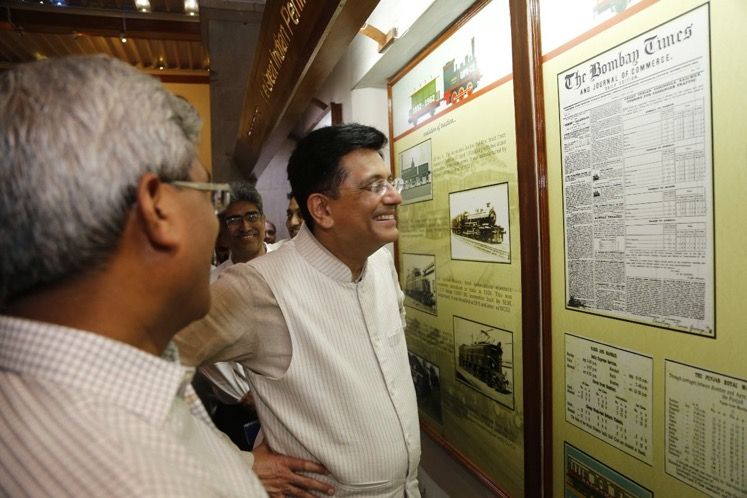 Railways, in partnership with Google, has undertaken an elaborate crowd-sourcing exercise to create a digital repository of its rich heritage and provide passengers a free virtual tour.
In a pilot project, Google Cultural Institute has deployed six video screens at Chhatrapati Shivaji Maharaj Station (CSMT) in Mumbai showcasing the national transporter's rich history and heritage – with a majority of the content crowd-sourced.
"A virtual visit will never replace the real thing. But technology can help open up art and culture to everyone and we think that's a powerful thing," said a senior Railway Ministry official involved with the project.
There will be more such screens at other stations to expose commuters to the Railways past, said the official.
Even as the Railways began collecting rare pictures through its unique crowd-sourcing effort, it entered into an agreement with the Google Cultural Institute to digitise and showcase its history on digital platforms and to help create a digital repository for free and universal online access.
Various other ministries and institutes of the government have already collaborated with Google Cultural Institute for displaying and preserving India's cultural heritage digitally.
Indian Railway has a huge list of heritage assets including bridges, steam locos, buildings, artefacts and museums which can be showcased for a global audience. It currently has 34 museums, heritage parks and heritage galleries across India.
It has also preserved around 230 steam locomotives, 110 vintage coaches, and wagons at prominent places. In addition, it has a large repository of built heritage, including 25 bridges and 70 buildings.
"Once these are placed online, it will act as a great tourist attraction," the official said.
The Railways spends about Rs 250 crore annually to maintain and manage the heritage assets.
"We are seeking private players' participation to help preserve rail heritage assets — like SBI Foundation is doing at CSMT," the official added.
As part of the Digitial India-Digital Rail campaign, Google is also providing free Wi-Fi service at 100 stations.
Indian Railways is preparing a comprehensive conservation management plan to preserve and promote its heritage assets. Besides, a dedicated rail heritage website under Railway Board's website is operational for dissemination of information.
Currently, the Railways has Unesco-accorded sites such as the Darjeeling Himalayan Railway, Nilgiri Mountain Railway, Kalka Shimla Railway and Chhatrapati Shivaji Terminus in Mumbai.
Matheran Light Railway and Kangra Valley Railway are also likely to get World Heritage status soon.
If things go according to plan, all the rail heritage assets would be available online in the next 5-7 years.
With IANS inputs