Tesla may not be able to launch its electric cars in India by 2017 or 2018, says Elon Musk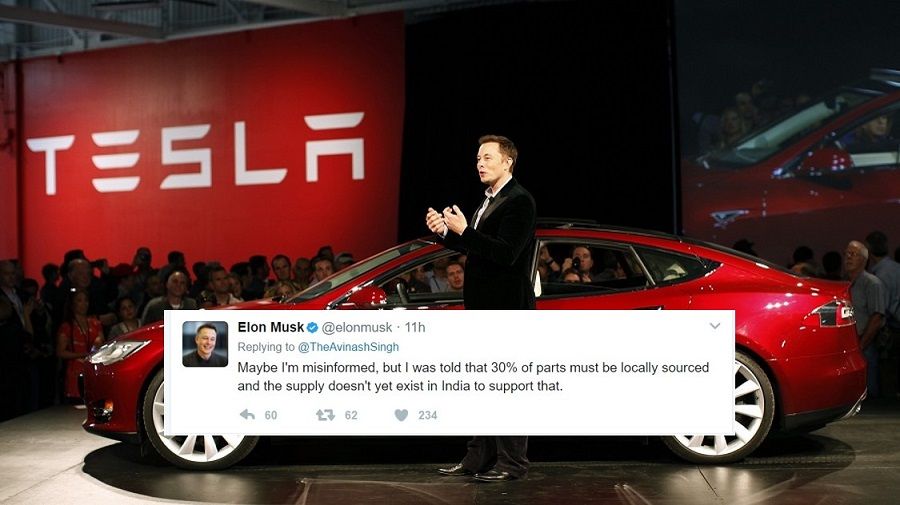 Lack of component suppliers in India may end up delaying the entry of electric car manufacturer Tesla in the country, it's founder and CEO Elon Musk said on Monday.
In February 2017, Musk had tweeted that he was hoping for Tesla to launch its vehicle in summer. The models rolled out by Tesla are electric powered and long distance runners.
However, on Monday he dashed the hopes of seeing the company launching the model in India either in 2017 or 2018.
Replying to a tweet that asked about the chances of Tesla launching its model in India in 2017 or 2018, Musk said: "Maybe I'm misinformed, but I was told that 30 percent of parts must be locally sourced and the supply doesn't yet exist in India to support that."
Following his tweet, a number of Tesla fans and enthusiasts suggested that he write to the government seeking an exception from the rule.
Others suggested that he reach out to Prime Minister Narendra Modi directly as an increase in adoption of electric cars was in line with his clean energy focus. Modi had met Musk during his visit to Tesla headquarters at Palo Alto, California in 2015.
Tesla had even taken pre-orders from Indian customers during the Model 3 unveiling last year. Potential buyers could pre-order the car by paying $1,000 upfront like the rest of the world, although the price for the Indian market was never disclosed.
Despite being one of the fastest growing markets for passenger cars, the market for electric vehicles is yet to see substantial growth in India due to high costs.
@TheAvinashSingh Maybe I'm misinformed, but I was told that 30% of parts must be locally sourced and the supply doesn't yet exist in India to support that.

— Elon Musk (@elonmusk) May 22, 2017