Violence erupts during Bhima-Koregaon battle anniversary event in Pune, one killed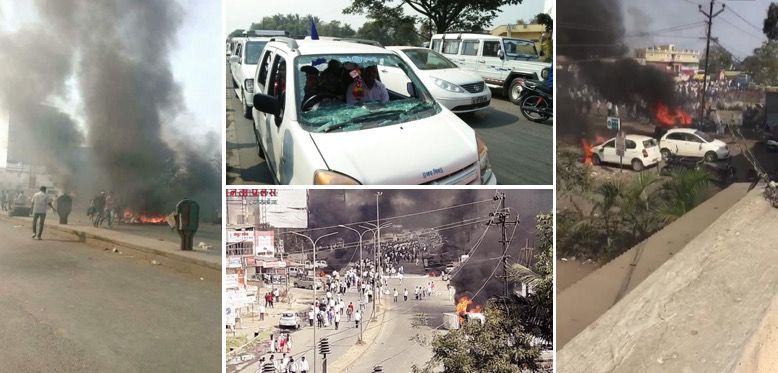 One person was killed and many others injured during violence that erupted during the event to mark the 200th anniversary of the Bhima Koregaon battle in Pune district on Monday.
In the battle, forces of the East India Company defeated Peshwa's army.
Dalit leaders commemorate the British victory, as it is believed that soldiers from the Mahar community, who were considered untouchable at the time, were part of the East India Company's forces.
However, some right-wing groups in Pune had expressed opposition to the celebration of the 'British' victory.
Incidents of stone-pelting and vandalism occurred at Bhima Koregaon in Shiroor tehsil yesterday afternoon when people were heading for the war memorial in the village.
Rahul Fatangale (28) died in the violence, while a dozen others were injured. In addition, more than 20 vehicles were torched and over 50 vehicles were damaged in stone pelting.
The violence erupted after a local group and some members of the crowd on its way to the memorial had an argument over some issue.
"Stone-pelting started after the argument. During the violence, some vehicles and a house in the vicinity were damaged," a police officer deployed for security at Bhima Koregaon told PTI without elaborating.
Another official confirmed that an FIR was registered against 49 people from Vadhu Budruk under the SC/ST Prevention of Atrocities Act.
"These upper caste men started to pelt stones at unarmed Dalits who were going towards Bhima Koregoan to pay their tributes to the war memorial. They also burnt vehicles on the road. Shops had to be shut down and curfew was imposed," an official told The Wire.
Cops had stopped traffic on the Pune-Ahmednagar highway for some time following the incident. Even mobile phone networks were blocked for some time to stop the circulation of inflammatory messages. The situation in the village is under control now.
The battle of Bhima Koregaon was fought on January 1, 1818. Some Dalit leaders and thinkers view its outcome as a victory of oppressed classes over the upper-caste establishment of those times.
Earlier in the day, Dalit leader and independent MLA from Gujarat Jignesh Mevani visited the war memorial in the village. Mevani had also attended 'Elgaar Parishad' held in Pune to commemorate the battle yesterday.
Meanwhile, Union Minister of State for Social Justice Ramdas Athawale demanded police protection for dalits in the wake of violence.
"Dalit groups visiting Bhima Koregaon were stopped at Sanaswadi near Koregaon. Stones were hurled at them. No police force was available for their protection," Athawale said in a statement.
He appealed to Maharashtra Chief Minister Devendra Fadnavis to deploy additional police force in the village and provide protection to the members of local dalit community.
Video:
Dalits on their way to an event to mark 200 years of the Bhima Koregaon battle near Pune city were attacked and their vehicles damaged on Monday afternoon. pic.twitter.com/eOb6ex3iBx

— Vijay Hatole (@hatole_vijay) January 2, 2018