Container topples on Ghodbunder Road: Chemical spilled on road, traffic affected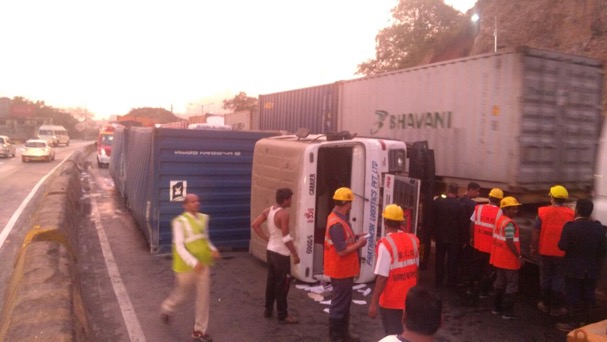 A container carrying large quantities of chemical toppled on Ghodbunder road in the neighbouring Thane early morning on Wednesday, affecting the flow of traffic on the busy route.
According to officials, the heavy motor vehicle topped at Ghodbunder Road opposite Shankar Temple in Thane's Gaimukh village area around 5:46 am today. It was travelling from Nhava Sheva to Wafi.
The driver of the container, Suhas Satre, is believed to have lost control of the vehicle causing it to topple. Fortunately, no casualties were reported in the mishap.
The container (MH-46-AF-9723) was carrying approximate 22.17 MT of chemicals, a majority of which was subsequently spilled on the road.
The concerned authorities were quickly alerted about the incident, following which officials from the police department, IRB, regional disaster management cell (RDMC) and fire brigade reached the spot with one emergency tender, one Quick Response Vehicle (QRV) and a water tanker.
The mishap severely restricted the flow of traffic on the route, which is used by thousands of trucks and tempos every day, from as early as 8 am today.
The vehicle has been cleared from the road with the help of a crane as of publishing this report. However, work on removing the chemical is still underway.
Video: