Massive fire breaks out at multiple godowns in Wajid Ali Compound, Saki Naka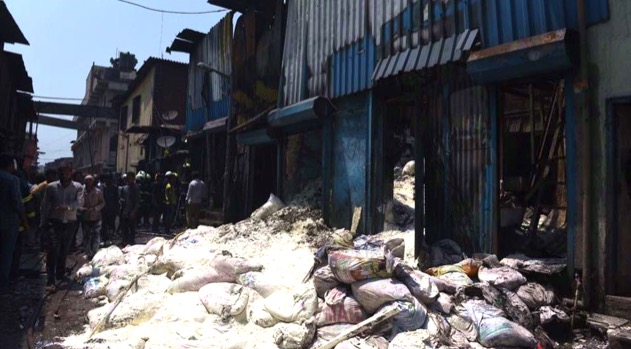 A massive fire broke out at a godown in Wajid Ali Compound in Mumbai's Saki Naka area on Thursday afternoon.
Details about the fire:
Location: According to preliminary information, the fire broke out at a godown inside Wajid Ali Compound located on 90 Feet Road in Tilak Nagar, Saki Naka.
Time: The mishap took place around noon today, and the fire department was alerted immediately after.
Severity: Fire officials reached the spot with ten fire tenders and more are likely to be pressed into service. Local police and an ambulance have also reached the spot.
Cause of fire: The cause of the blaze is not known as a confirmation from the fire department is awaited.
Casualties & damage: No casualties were reported in the mishap as of publishing this report. However, a major loss of property is estimated.
Current status: The fire has spread to two other godowns in the vicinity. Fire fighters are trying to control the blaze in all three godowns as of 12:45 pm. There is heavy police presence in the area. Further details are awaited.
Update:
(2 pm) At least four godowns were gutted in the fire, which was finally brought under control by 1:15 pm. Mumbai police confirmed that everyone was evacuated safely and that the blaze did not result in any casualties.
In a similar incident earlier this week, a blaze gutted Ambience Lights & Sounds showroom at Andheri's Laxmi Industrial Estate on Monday.
Note: The report has been updated with additional information since it was first published.