Dongri Building Collapse: Death toll rises to 14, rescue op continues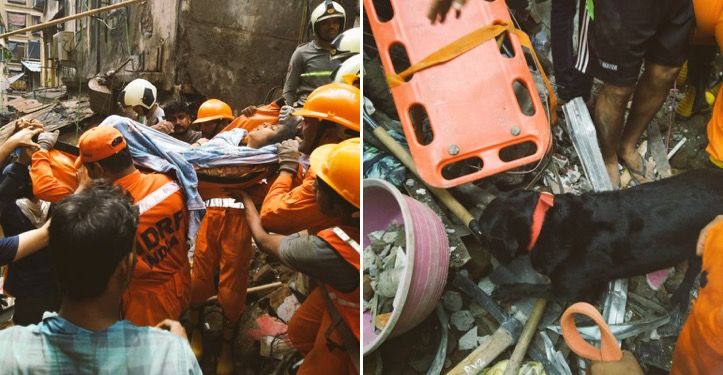 The death toll in the collapse of the four-storeyed Kesarbhai building in Mumbai's Dongri area rose to 14, the National Disaster Response Force (NDRF) said on Wednesday.
Among the dead are seven adult males, three boys and four women. Nine others, including two children, have been injured in the incident.
The deceased have been identified as: Ibrahim (1), Arbaaz (7), Shehzad (8), Kashyap Amirajan (13), Mujil Mansur Salmani (15), Zuber Mansoor Salmani (20), Saira Rehan Shaikh (25), Saifa Nisar Shaikh (25), Sanaa Salmani (25), Javed Ismail (34), Arhaan Shehzad (40), Yamin Mansuri (54) and Abdul Sattar Kalu Shaikh (55).
The injured persons are: Ayesha Shaikh (3), Abdul Rahman (3), Zeenat (25), Alma Mohammad Rashid (28), Imran Hussain Kalwania (30), Javid (30), Naved Salmani (35), Firoz Nazir Salmani (45), Salma Abdul Sattar Sheikh (55).
The death toll is likely to rise, an official from the BMC disaster management cell said.
The search and rescue operation continued through the night with the help of sniffer dogs. However, rescue teams could not deploy heavy vehicles to remove the debris as the lanes were too narrow with electric wires dangling overhead.
#WATCH National Disaster Response Force (NDRF) carries out search operation with the help of sniffer dogs, at Kesarbhai building collapse site in Mumbai. pic.twitter.com/DAW5js9lCr

— ANI (@ANI) July 17, 2019
NDRF has said operations will continue till the last piece of rubble is removed from the spot.
The building collapsed around 11:30 am on Tuesday on Tandel Street in Dongri, initially killing two persons and trapping over 40 people under its debris.
Prime Minister Narendra Modi expressed grief over the death of people in the building collapse, while Maharashtra Chief Minister Devendra Fadnavis has ordered an investigation into the incident.
BMC Commissioner Praveen Pardeshi visited the spot and took stock of the rescue operations.
The civic body has claimed that it had classified the building in the "C1 category" back in 2017. This classification meant the building was meant "to be evacuated for demolition at the earliest".
It also said that the structure was maintained by Maharashtra Housing and Area Development Authority (MHADA).
MHADA officials, however, have said that the 100-year-old building was unauthorised and not under its supervision.
Meanwhile, Mumbai Police has registered an Accidental Death Report (ADR) and launched a probe into the incident.