Video: RPF personnel, commuters save woman from being run over at Kurla station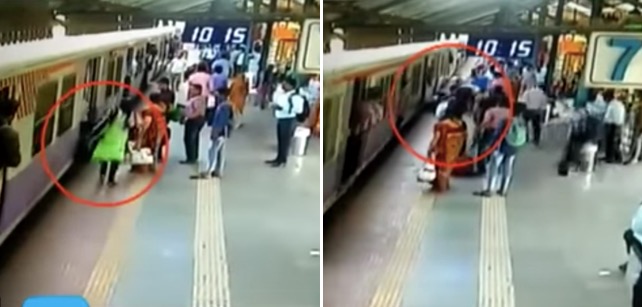 The timely action of a Railway Protection Force (RPF) personnel helped save a woman from falling on the tracks and being run over by a local train at Mumbai's Kurla station earlier this week.
The incident took place around 10:15 pm on Tuesday when the female passenger was deboarding the Panvel-bound train to recover a fallen bag at platform 7 of Kurla railway station.
A CCTV footage of the incident shows the woman slipping and falling at the edge of the platform.
In no time, an alert RPF personnel and other commuters spot her and rush to her aid. They can be seen pulling the woman to safety as the train leaves the platform, averting a major mishap.
The RPF personnel, Vikas Patil, was lauded by senior railway officials for his prompt action.
#WATCH: Railway Protection Force (RPF) personnel rescues a woman passenger from being run over by a Parvel-bound train at Kurla Railway Station in Mumbai (03.04.18) pic.twitter.com/2mdX8lZLXv

— ANI (@ANI) April 5, 2018
Recent Incidents:
Feb 21: An RPF personnel saved a woman from slipping under a train while she was trying to board a moving train at the Mumbai Central Railway Station.
Feb 10: An on-duty ticket checker saved the life of a young man who fell at the edge of the platform after boarding an express train at Kalyan station.
Feb 2: An RPF constable saved a seven-year-old boy who fell in the gap between the platform and the track at Naigaon railway station in Mumbai.