Man tries to hang self from bridge in Kalwa, safely rescued by cops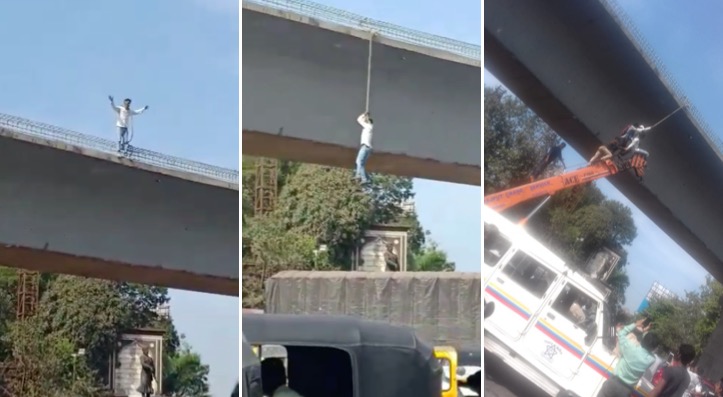 In a shocking incident, a 43-year-old man tried to commit suicide in broad daylight by hanging himself from a bridge in Kalwa, Thane on Tuesday afternoon.
According to preliminary information, the man – later identified as Bhagwan Kamble – tried to hang himself from an under-construction bridge in Kalwa earlier today.
Kamble was standing on the boundary wall of the bridge with a rope hanging around his neck when he caught the attention of people walking underneath the structure.
Soon, a soon a large crowd gathered on the spot. A few of them even shouted at Kamble to dissuade him from jumping. However, he paid no heed and jumped off the bridge.
Fortunately, a team from Thane police arrived at the spot on time and managed to rescue Kamble with the help of a crane. He was safely brought down and escorted to a nearby hospital.
Details regarding Kamble's present condition and what prompted him to take the extreme step are awaited.
Video of the spot:
(Disturbing visuals & strong language. Viewer discretion is advised)