Mobile parts, accessories worth Rs 3 crore seized from tempo near CSMT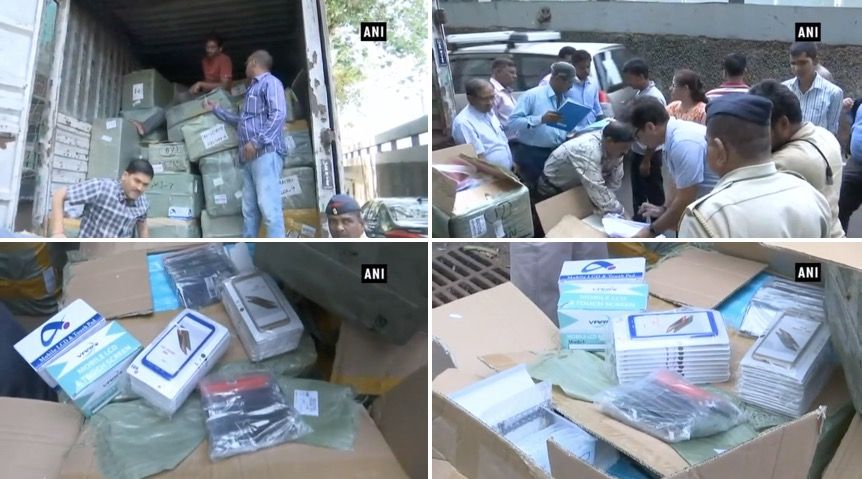 The Mumbai Customs on Monday seized smuggled mobile phone parts and accessories worth an estimated Rs 3 crore from a tempo truck near Chattrapati Shivaji Maharaj Terminus (CSMT).
The seizure comes two days after a similar consignment worth Rs 5 crore was seized.
The consignment of goods, seized yesterday, had been transported from Chennai to Mumbai in the Chennai Express Train.
Officials from the Mumbai Customs (Preventive Wing) confiscated thousands of mobile phone parts, LCD touchpads, and mobile phone back covers from the tempo, worth over Rs 3 crore.
The modus operandi involved transporting the good from Chennai to Mumbai via train through passengers, loading them in a truck at CSMT and distributing them throughout the city.
"A distributor named Manav had booked a tempo to distribute the smuggled goods in the city. We stopped the vehicle and seized goods worth Rs 3 crore," said Deepak Pandit, Assistant Commissioner of Customs (Preventive Wing).
Manav, who claimed to be the owner of the goods, was detained by the police and booked for violating the Customs Act, 1962. He will also be booked under relevant sections of the Patent Act, 1970 as the parts are believed to be duplicates.
The goods are suspected to have been smuggled out of Dubai or China. Meanwhile, further investigation into the case is underway.
The action comes two days after Mumbai Customs sleuths arrested one person and seized 10,000 expensive watches, 6,000 video cameras, 17,000 mobile scratch guards and other items collectively worth over Rs 5 crore.