Ulhasnagar building collapses barely 24 hours after being evacuated, none hurt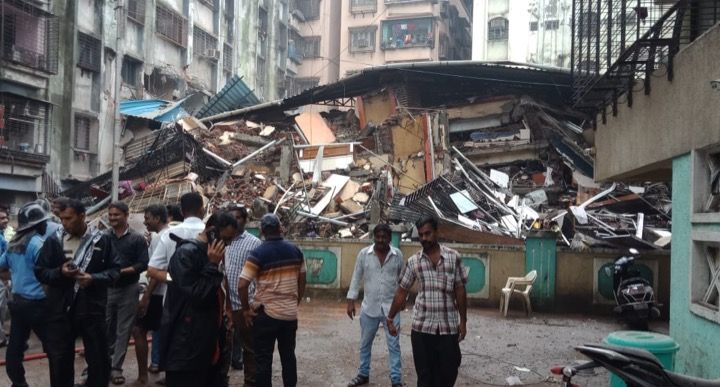 A five-storey building collapsed in Ulhasnagar township on Tuesday morning, barely 24 hours after it developed cracks and was evacuated.
According to officials, A-wing of Mahak apartments, located at Link Road 3 in Ulhasnagar, collapsed around 10 am yesterday.
"Nobody was injured in the incident that occurred around 10 am since the occupants of all the 31 flats in the sinking Mahak Apartment were evacuated to safety on Monday itself," said Balasaheb Netke, chief, disaster cell, Ulhasnagar Municipal Corporation.
The residents alerted authorities after the structure developed cracks and started 'sinking' on Monday.
Shortly after, fire brigade and civic authorities evacuated around 30 families living in the building. The residents were escorted to their flats by fire brigade personnel so they could collect their essential belongings.
The 27-year-old building, incidentally, did not feature in the municipal body's dangerous structures list.
A part of the collapsed structure also fell near the entrance of the adjacent B-wing, trapping its residents. Following which, firemen and officials of the disaster control cell began clearing the debris.
Officials eventually managed to evacuate all residents safely. Meanwhile, the occupants of four nearby buildings were also evacuated as a precautionary measure, rendering them homeless.
Ulhasnagar Municipal Corporation deputy commissioner Ganesh Shimpi alleged that the residents had earlier been asked to carry out a structural audit, which wasn't done. However, residents refuted the claim about receiving any notice for audit.
The incident comes less than a month after 14 people died and nine were injured in the collapse of a four-storey structure on Tandel Street in Dongri.