Mumbai witnessed 7 fires in last 5 days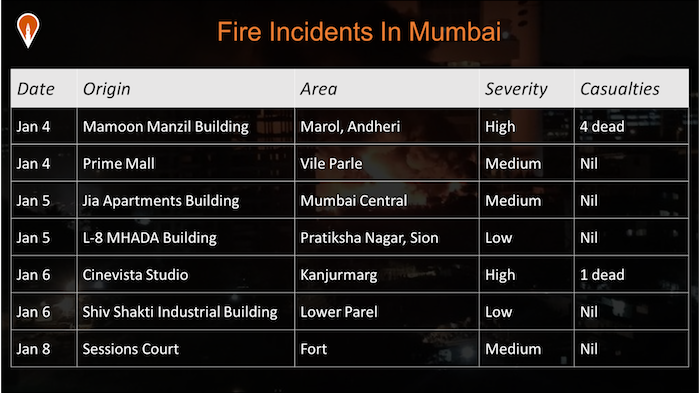 Mumbai has witnessed an unnerving series of fire-related incidents in the new year, with at least seven confirmed incidents reported in the five day period from January 4 to January 8 alone. Two of them have led to casualties.
The incidents have taken place less than a week after the Kamala Mills tragedy, in which 14 people were killed after a massive blaze engulfed two prominent eateries in the heart of Mumbai.
Additional details about each incident:
* Marol, Andheri – Report
* Prime Mall, Vile Parle – Report, Report 2, Report 3
* Jia Apartments, Mumbai Central – Report, Report 2
* MHADA building, Sion – Report, Report 2
* Cinevista Studio, Kanjurmarg – Report, Report 2, Report 3
* Shiv Shakti building, Lower Parel – Report
* Sessions Court, Fort – Report
Meanwhile, BMC has put residential & commercial establishments across the city on notice, asking them to either adhere to fire safety norms or face stringent action. It has also taken action against over 500 establishments that were flouting norms.