Video: Pantograph of CSMT-Panvel local catches fire at Vashi station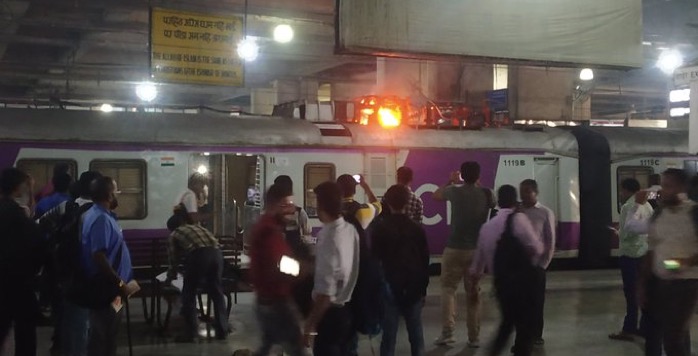 A minor fire broke out on the pantograph of a local train at Vashi railway station on Wednesday morning, temporarily affecting services on the Harbour line.
According to officials, the pantograph of PL-49 CSMT-Panvel local flashed after a discarded bag was thrown on it by an unknown person. The incident took place at 9:28 am.
There was some commotion at the station as commuters spotted heavy smoke and sparks erupting from the pantograph of the local after it reached Vashi station.
The pantograph is an apparatus on the roof of an electric train that collects power through contact with an overhead line. The sparks were reportedly caused following the tripping of the overhead equipment.
However, the situation was brought under control in minutes by the railway staff and did not result in any injuries.
The local was detained for some time, before being shifted to the car shed for an inspection.
"Pantograph of PL-49 CSMT-Panvel local flashed due to discarded bag thrown by unknown person on pantograph of PL-49 local at Vashi station. Train detained for 12 minutes from 09.28 hrs at Vashi station. Rake withdrawn and sent to Car shed for safety reasons," Central Railway (CR) said.
Regular services have resumed as of publishing this report.
Meanwhile, CR has urged commuters not to throw objects on trains to avoid disruption in services.
Commuters are requested not to throw objects, bags, etc. on trains which may lead to disruption of services. @drmmumbaicr @drmpune pic.twitter.com/sLc2jEc7sB

— Central Railway (@Central_Railway) October 9, 2019