5 die in major mishap near Mahad, Raigad on Mumbai-Goa highway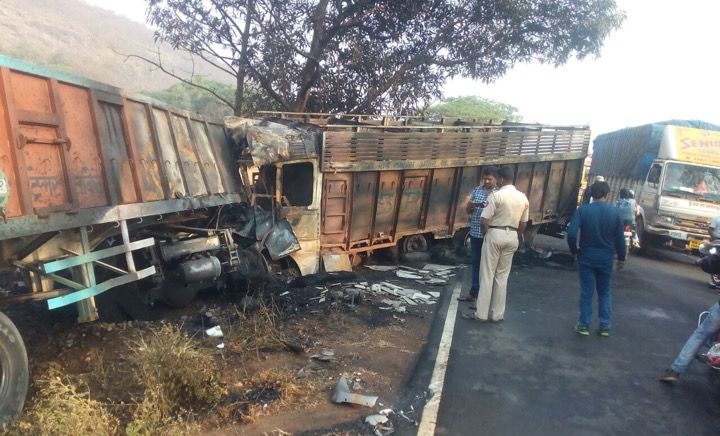 Five people died in a major mishap involving two heavy vehicles and a two-wheeler at Mahad, Raigad on the Mumbai-Goa highway early morning on Thursday.
The incident took place next to Gurukripa Hotel at Lonere Village of Mangaon Taluka near Mahad, located about 140 kilometres from Mumbai.
According to officials, the mishap took place at 5:40 am when the truck (HR-74-A-2899) and trailer (RJ-09-GB-8292) crashed into each other and the two-wheeler (MH-06-BL-1972) subsequently rammed into them.
The truck was travelling from Mumbai to Goa while the trailer was travelling from Goa to Mumbai. The vehicles had a head-on collision on the two-lane highway.
The rider of the two-wheeler, a TVS Jupiter, was travelling behind the trailer and unable to swerve or bring it to a complete halt on time. While the two-wheeler was thrown off course, the collided vehicles went up in flames suspectedly due to a short circuit.
All five people involved in the mishap – two drivers, two cleaners and the rider – sustained major injuries and died before they could be rushed to the hospital.
Officials from Goregoan police station in Raigad reached the spot around 7:15 am and started by dispersing the huge crowd that had gathered at the accident spot.
The bodies, meanwhile, were sent to the nearby civil hospital and the vehicles were moved to the side of the highway with the help of a crane. A fire engine was also called in to douse the flames.
The traffic movement on the highway was affected for nearly two hours, which led to queuing on both sides.
So far, police have been able to ascertain the identity of the rider, Tushar Gavade (26). The identities of the other four people is not yet known.
A case under sections 279, 337, 338 and 304(a) of the Indian Penal Code and section 184 of Motor Vehicle Act has been registered by Goregaon police. Further investigation into the mishap is underway.
The Mumbai-Goa highway, which is two-lane for the most part, witnesses more than hundred deadly accidents each year. Work on widening the highway to four-lanes is already underway and is expected to complete by March 2019.
The project was initially sanctioned in January 2011, but got sidelined. It got a new lease of life after coming under the scanner of Prime Minister Narendra Modi in 2016.
However, the initial deadline of December 2018 was pushed forward once again the project got delayed due to a number of reasons including land acquisition, lack of environmental clearance and different plans about its alignment.