CR puts up height barriers before Kings Circle railway bridge after back to back mishaps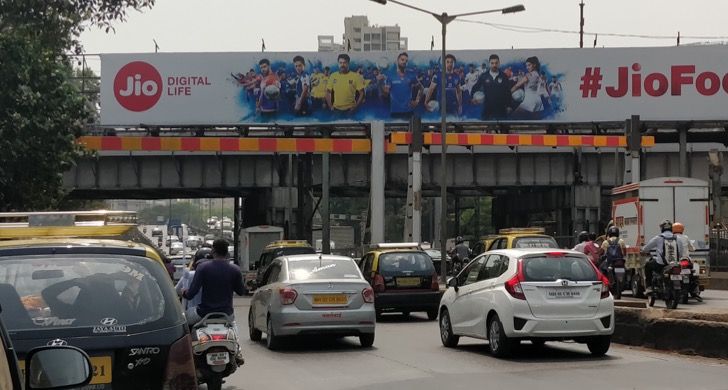 After two back to back incidents of heavy vehicles ramming into the Kings Circle railway bridge, Central Railway (CR) has erected height barriers on both sides to prevent the occurrence of such mishaps going forward.
Work on the height gauge, put up right before the girders of the railway bridge, began on Tuesday night itself, hours of an early morning mishap led to major traffic chaos.
Two barriers each have come up on the south (towards Dadar) and north (toward Sion) bound sections. The barriers, brightly coloured for better visibility at night, are placed a few feet before the railway bridge.
The structure was erected by CR officials after seeking permission from the traffic police.
Plagued with problems:
Over the years, dozens of heavy vehicles have rammed into the railway bridge at Dr. Babasaheb Ambedkar road, between Sion and Kings Circle flyovers, on the Eastern Express Highway. The bridge connects Kings Circle and Mahim stations.
There are three lanes on either side of the highway, which runs adjacent to Mahatma Gandhi market and Sion police station. Heavy vehicles can only use the two lanes on the left as the ones in the middle are elevated.
In the wake of repeated incidents, a height barrier had been put up before the bridge earlier. However, it got damaged after being hit by a truck last year and was subsequently dismantled.
Even as the bridge continued to bear the brunt of multiple collisions, the barrier had not been replaced since as the onus of installing it kept passing between the civic body, traffic police, and railways.
CR, meanwhile, has also ruled out increasing the height of the bridge.
Recent mishaps:
On Tuesday, peak hour traffic between Sion and Dadar was severely affected after a cargo container rammed into the bridge around 5:30 am. The blockage led to a massive traffic snarl extending all the way from Sion to Dadar.
At its peak around 9:30 am, the queues were a few km long, extending from Chembur till Parel. It was finally cleared around 10 am. The driver, Sandeep Thaple, was booked for rash & negligent driving and causing damage to public property.
Just four days earlier, a multi-axle trailer carrying containers of alcohol rammed into the bridge during the wee hours. The driver, suspected of driving under the influence, fled the spot after the accident.
Fortunately, the mishap did not result in any major delays as the vehicle was cleared early morning.