Video: Mentally disturbed man climbs Kandivali FOB, tries to touch overhead wires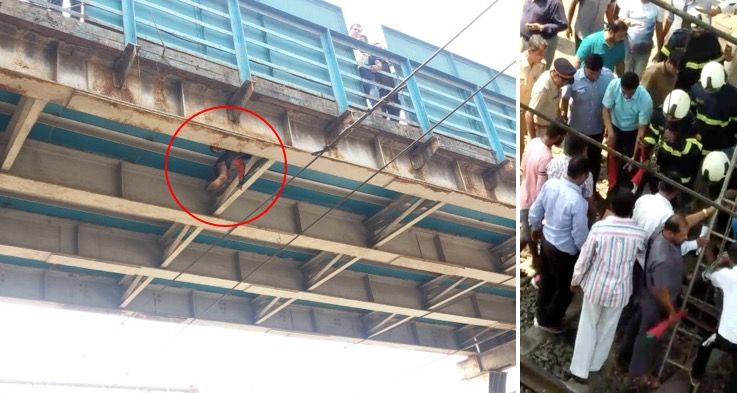 In a bizarre incident, an armed and mentally disturbed man climbed the foot-over bridge (FOB) and tried to touch the overhead wires at Kandivali station on Thursday morning.
The man, who is believed to be mentally unstable, first entered the ladies coach of a Western Railway (WR) local around 11 am today.
He later climbed underneath the FOB and attempted to touch the overhead wires. His actions caught the attention of bystanders, who quickly raised an alarm. The man, incidentally, was also carrying a knife.
In no time, officials from the Railway Protection Force (RPF) and Government Railway Police (GRP) reached the spot and tried to coax him to get down. Mumbai fire brigade was also alerted.
Meanwhile, a sizeable crowd had gathered around the FOB and railway line.
Finally, after nearly two hours of drama, officials from the fire brigade, GRP and RPF managed to bring him down by poking him with a stick and with the help of a life net.
The man, who is yet to be identified, has been taken into custody. Although no case has been registered as of publishing this report, GRP will likely book the miscreant after ascertaining the state of his mental health.
No untoward incident was reported due to the incident.
Video: