At 81.69, petrol price at 4-year high in Mumbai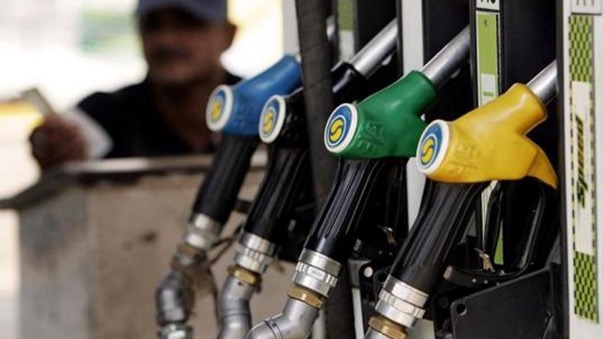 The Central Government has come under fire as petrol prices hit a 4-year high in Mumbai on Monday, with petrol crossing Rs 81 and diesel touching almost Rs 69.
The price of petrol in Mumbai stands at Rs 81.69 a litre and diesel is selling at Rs 68.89 a litre. In comparison, petrol is being sold in Delhi for Rs 73.83 per litre and diesel was selling at a record price of Rs 64.69 a litre.
Incidentally, the highest VAT on petrol is charged by the Maharashtra government for Mumbai, Thane and Navi Mumbai region, at 40.3 percent. As of Monday, diesel price was at an all-time high in all four metro cities of Delhi, Kolkata, Mumbai, and Chennai.
Earlier this year, the Oil Ministry had sought a reduction in excise duty on petrol an diesel to cushion the impact rising international oil rates but Finance Minister Arun Jaitley in his Budget presented on February 1 ignored those calls.
India has the highest retail prices of petrol and diesel among South Asian nations as taxes account for half of the pump rates.
Some quarters of the public said the government must come up with a plan such as carpooling policy or decreasing the excise duty on fuel, so that they do not suffer due to hike in petrol and diesel prices in the international market.
"The government earlier as well increased the price of CNG and now these. It should either come up with a carpooling policy or keep a check on the ever increasing prices of diesel and petrol," Delhi-based Rahul Saxena told ANI on Monday.
He said the price of petrol and diesel always remain high in India in comparison with other countries.
"It causes discontentment among the public; the government needs to tackle it by decreasing the excise on fuel," Saxena added.
Vivek from Nagpur, however, said the problem was because of huge demand and lack of supply as people were largely dependent on private transportation and consuming it in large scale.
He also said people need to bring down the consumption or deal with it as it keeps on increasing daily.
Naeem, an auto driver from Mumbai, said he hardly manages to meet ends by driving a rickshaw and will die of hunger if the government keeps on increasing fuel/CNG prices on the daily basis.
Narula Khan, who drives a taxi in Mumbai, said he had just got his CNG tank full in view of the price hike from today.
He said people like him, who struggle to meet ends by driving autos and taxis, are affected the most and the government must consider bringing down the prices.
The price hike in petrol, diesel, as well as CNG, comes following a rapid rise in international rates led by strong global demand.
Oil prices rose on Monday, lifted by a drop in drilling activity in the United States as well as by expectations that Washington could re-introduce sanctions against Iran.
With agency inputs