Back-to-back accidents, planned closure affect traffic on Mumbai-Pune Expressway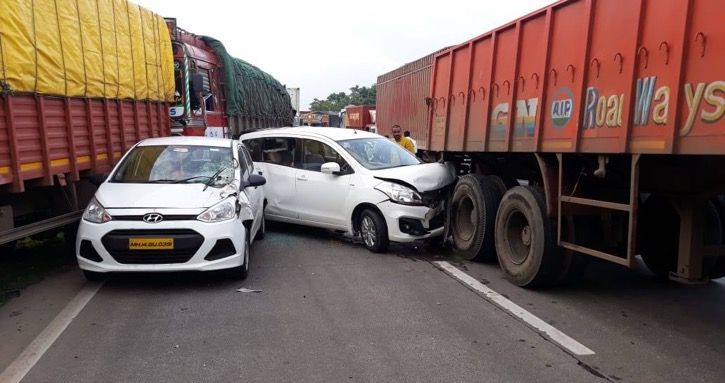 Traffic movement on the busy Mumbai-Pune expressway is likely to remain affected for several hours on Thursday with two back to back accidents in the morning and a scheduled two-hour closure in the afternoon.
The Accidents:
Two separate accidents took place on the Mumbai-Pune expressway today morning.
In the first instance, five cars, four trucks, and a tempo were involved in a massive collision near the food mall at Bor Ghat. Police are yet to confirm how the accident took place.
At least one truck driver died in the mishap, and several other persons are believed to have sustained injuries. Further, since the damaged vehicles blocked most part of the road, the flow of traffic towards Mumbai came to a complete halt.
Meanwhile, work on removing the mangled remains of the vehicles is underway in the presence of IRB officials and highway police.
In the second case, a truck and container trailer were involved in a collision near Khopoli, affecting traffic on the route. One driver was injured in the mishap. However, both vehicles have been removed from the accident spot as of publishing this report.
The mishaps come a day after one person was killed and two others were injured after a speeding car rammed into a container on the expressway.
Scheduled Closure:
The back to back accidents took place just hours before the Maharashtra State Road Development Corporation's (MSRDC) planned closure was about to begin.
MSRDC had scheduled a two-hour closure from 12 to 2 pm today afternoon to carry out repair work near the Khalapur toll naka and undertake the installation of 16 electronic instruction boards.
During the closure, traffic towards Pune will be halted. While small vehicles will be diverted towards the old Mumbai-Pune highway via Shedung Phata, heavy vehicles will be barred from using the route altogether.