Blast at chemical factory in MIDC Dombivli, windowpanes of buildings in 3 km radius shattered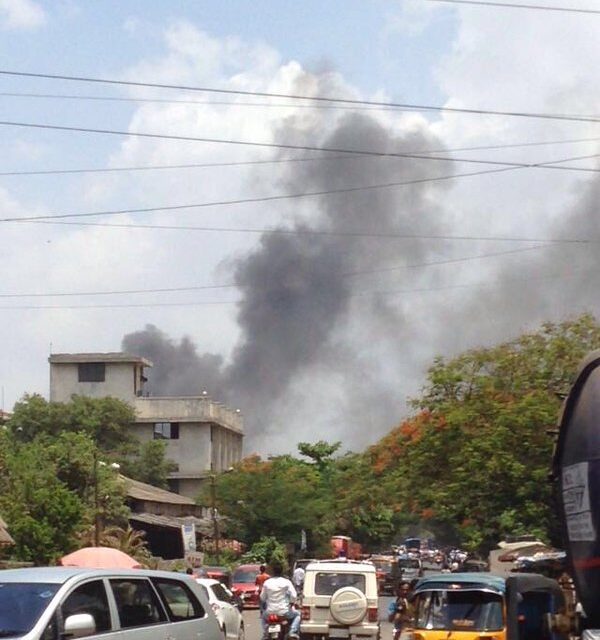 Around 11:45 am, on Thursday, a boiler blast was reported at a chemical factory located at Phase II MIDC in Shivaji Udyog Nagar, Dombivli (E).
According to initial reports, the factory where the blast occurred is 'Acharya Chemicals'.
Due to the intensity of the blast, the windowpanes of buildings within a 3 km radius were shattered. Within minutes, the entire area was engulfed in smoke.
As of 12:15, there is no update on casualties. However, many are feared injured.
# Update (12:50 pm): 1 confirmed death and over 150 feared injured.
# Update (12:59 pm): Death toll rises to 3.
# Update (1:05 pm): 8 fire tenders have reached the spot.
# Update (1:18 pm): Kalyan Dombivli Municipal Corporation (KDMC) has requested citizens to close doors and windows until further notice.
# Update (1:30 pm): Maharashtra CM Devendra Fadnavis said that he is in talks with relevant authorities and has asked them to rope in extra force to speed up relief operations.
# Update (2:20 pm): The smoke around the area has cleared and rescue teams are still on the spot. Death toll remains at 3, while the exact count of those who are injured is still being determined.
# Update (4:50 pm): Death toll rises to 5. Count of injured still estimated to be close to 150.
# Update (7:30 pm): CM Devendra Fadnavis reached the blast site and is currently overseeing operations. Those injured have been admitted in RR hospital, AIMS Dombivli, Shastrinagar hospital and Shivam hospital.
@avi1390 @AmhiDombivlikar @LocalPressCo loud blast till 4km from the boiler blast pic.twitter.com/fcTvFLazja

— Swapnil Mahajan (@swapnilReal) May 26, 2016
,@LocalPressCo @AmhiDombivlikar my friends home. Effects after boiler blast in #Dombivli pic.twitter.com/l3fkKgC17p

— Blue Ink Pen ✏  (@Digamber) May 26, 2016
Picture showing the aftermath of an explosion at chemical factory in Dombivli near Mumbai Photo: Levin Raju pic.twitter.com/uDikZ8fw2u

— Mumbai Connect (@Mumbai_Connect) May 26, 2016
UPDATE: Mayor of Kalyan-Dombivli Municipal Corporation confirms death of 3 people https://t.co/bWFlqNxQ2B #Dombivli pic.twitter.com/ukMfcfX1Hn

— RT (@RT_com) May 26, 2016
UPDATE: 3 dead, over 100 injured as major fire breaks out at Dombivali https://t.co/0HXZHR9fvb #news #middaynews pic.twitter.com/vqTh5iKrQ6

— Mantrix (@mantreex) May 26, 2016
#thanetrigged #blast: Huge explosion rocks Dombivali, 3 deadhttps://t.co/vMdY86MEFE pic.twitter.com/dgPZSXjqHp

— Free Press Journal (@fpjindia) May 26, 2016
#DombivaliBlast
List of Patient admitted to diff hospitals@AmhiDombivlikar @RidlrMUM @LocalPressCo @AamAadmiParty pic.twitter.com/0F6dA8KcyJ

— मुंबै बोल (@sakal_cityspeak) May 26, 2016
CM @Dev_Fadnavis at the chemical factory blast site in #Dombivali #DombivaliBlast pic.twitter.com/hdPJN45s8k

— CMO Maharashtra (@CMOMaharashtra) May 26, 2016