Bombay HC refuses interim relief for tree cutting at Aarey, says MMRCL can fell 'permitted' trees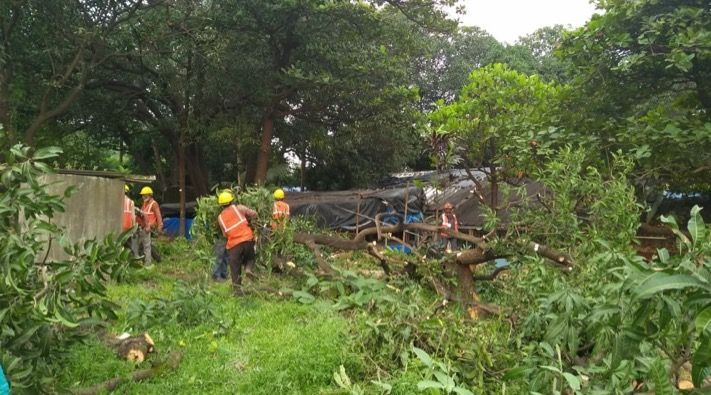 The Bombay High Court on Wednesday allowed Mumbai Metro Rail Corporation Limited (MMRCL) to continue felling trees in Aarey Colony while directing it to file an affidavit stating that it was only cutting those for which it had permission.
A division bench of acting Chief Justice N H Patil and Justice G S Kulkarni was hearing a petition filed by Aam Aadmi Party (AAP) leaders Preeti Menon and Ruben Mascarenhas against the 'indiscriminate' felling of trees by MMRCL inside the Aarey Colony.
MMRCL is expected to cut around 2,700 trees inside Aarey to pave way for the Metro-III car shed.
Advocate Kiran Bagaria, appearing for MMRCL, told the court that only those trees are being cut for which permissions have already been sought.
"We will not cut any tree (inside Aarey) without taking prior permission from the concerned authorities," said Bagaria.
The bench directed MMRCL to file an affidavit in two weeks stating so and also submit a schedule of work it plans to undertake in Aarey colony for construction of the Metro car shed.
The court, however, refused to pass an order granting an interim relief to the petitioners by staying the cutting of trees pending the hearing of the plea.
ALERT: Chopping at Aarey has begun!

Mumbaikars please Contact @conserveaarey to volunteer in stopping tree cutting.

Let us save our last remaining green lung in the city#SaveAareyForest #SaveAarey pic.twitter.com/UpW2sRa7k2

— Ruben Mascarenhas (@rubenmasc) September 29, 2018
In the petition, Menon claimed that she learned about trees being felled on the Aarey Marol Road on September 29.
"It was seen that more than 100 huge trees were cut and many more were being surveyed. It is the estimation of the petitioner that almost 400 or more full-grown trees are slated for chopping," the petition said.
It claimed that MMRCL's act was reckless and was causing permanent damage to the environment.
Several citizens, NGOs, and Aam Aadmi Party (AAP) activists had also organised a meet at Aarey on Tuesday to raise awareness about the tree cutting and its subsequent impact on the environment.
Meanwhile, a petition against the felling of trees at Aarey on Change.org has amassed close to 1.4 lakh signatures as of publishing this report.