Chai Pe Kharcha? Congress' Sanjay Nirupam cites RTI, says CM's office spent 3.4 crores on tea in 2017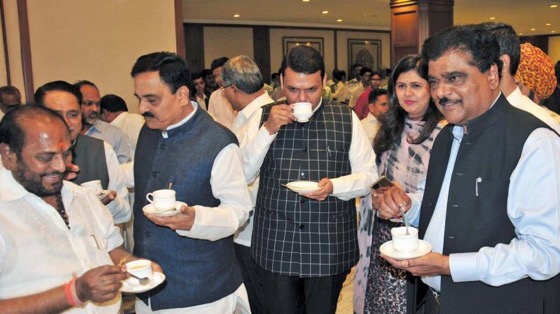 The Congress' Mumbai unit on Wednesday alleged a massive 'Tea Scam' in Maharashtra Chief Minister's Office (CMO) where an average of 18,500 cups of the hot beverage are served daily.
Mumbai Congress President Sanjay Nirupam, furnishing RTI documents, said that there has been a dramatic and steady increase in the number of expenses incurred on tea consumption in the CMO in the past three years.
Citing RTI replies, he said the amount spent on tea has risen from Rs 57,99,150 (nearly Rs 58 lakh) in 2015-16 to Rs 3,34,64.904 (nearly Rs 3.4 crore) in 2017-18.
"This is a staggering increase of 577 percent. It means that on an average, daily a whopping 18,591 cups of tea are served in CMO… How is it possible?" he asked.
Nirupam sarcastically asked, "what kind of tea is (Chief Minister Devendra) Fadnavis drinking since we have heard of only green tea, yellow tea and so on."
He took another jibe by claiming that "the CM and CMO seem to be indulging in some kind of highly expensive 'golden' tea' to mount up such a huge bill".
In contrast, he said it's an irony that farmers are dying daily in Maharashtra, but the CMO seems to be incurring an unprecedented expense on "serving tea worth crores of rupees".
Alleging corruption in the tea bills of the CMO, he said: "On one hand, the Prime Minister takes great pride in saying that he was a 'Chaiwala'. On the other hand, Fadnavis has clearly taken this a bit too far with the massive and unnecessary expense incurred on serving tea in his office. Both the PM and the Maharashtra CM are taking the country for a ride in the name of chai."
To a question whether its practical or feasible to serve tea to more than 18,000 people in the CMO every day, Nirupam quipped that "those Mantralaya rats must be drinking it all up…!"
He was referring to an alleged scam highlighted by Bharatiya Janata Party ex-minister Eknath Khadse, who claimed that around 319,400 rats were eliminated in just one week in Mantralaya.
Later, the state government said he was referring to 319,400 doses of rat poison which were deployed in Mantralaya to kill the rodents.
Nirupam said the huge expenses incurred or the inflated bills for serving tea at the CMO needs to be probed as it is done at the cost of honest taxpayers' money.
"This is happening right under the CM's nose and in the CMO. It must be investigated who is doing it and action must be taken," he demanded.
Response from Chief Minister's Office
Responding to the Congress leaders allegations, the CMO in a statement here said, "The conclusions drawn by Nirupam are wrong. The expenditure he referred to as being on tea and snacks is in reality the expenditure on the overall hospitality.
"This includes expenditure on tea, snacks, meals, and cost incurred on snacks during state cabinet meetings, bouquets, shawls and shriphal (coconut), gift articles and also the expenditure on (holding) meetings of various departments," the statement said.
"Also, the expenditure is not just that of the CMO, but includes the expenditure at Mantralaya, Sahyadri guest house, Varsha (CMs official residence in Mumbai), Ramgiri (CMs official residence at Nagpur) and Hyderabad House at Nagpur," it said.
"It may be noted that there has been a significant increase in the number of visitors to the Mantralaya and CMO," it said, adding the cost of items being supplied has also gone up.