CM dedicates site for Bal Thackeray memorial, Sena donates 2 crore for farmers' welfare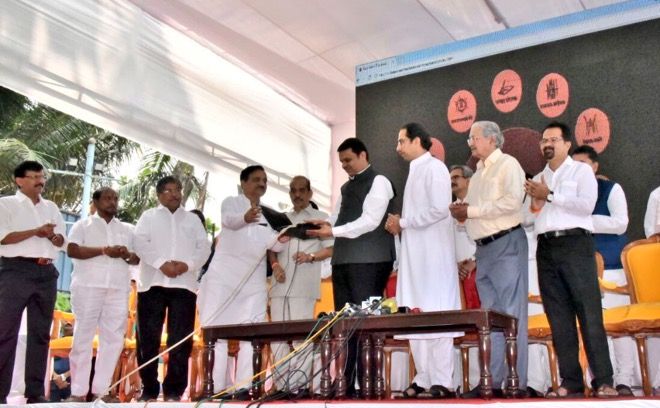 To mark the fifth death anniversary of Shiv Sena founder Bal Thackeray, Maharashtra Chief Minister Devendra Fadnavis on Friday dedicated a proposed site for his national memorial.
The site would come up at the existing Mumbai Mayor's Bungalow at Shivaji Park near the Dadar Chowpatty, on the banks of the Arabian Sea.
"I bow humbly before our guiding force, Balasaheb Thackeray. The work on handing over the property for the memorial is in its final stage. We are making efforts to clear it on priority," Fadnavis said, sharing the dais with ally and Shiv Sena President Uddhav Thackeray.
"Balasaheb was the man responsible for making the alliance of BJP and Shiv Sena. He had been a guiding light for all of us who helped make Maharashtra that is respected everywhere. A memorial befitting his status will be set up at the mayor's bungalow and the entire cost will be borne by the government," Fadnavis added.
On his part, Uddhav Thackeray took the opportunity to announce a donation of Rs 2 crore to the Chief Minister's Farmers Relief Fund for farmer welfare, which he handed over to Fadnavis.
The amount was collected through a donation of one month's salary of all elected leaders of Shiv Sena, starting from the Gram Panchayat to MLAs and MPs, besides the biggest chunk of Rs 1 million from Thackeray himself.
The prime sea-facing property, measuring around 11,500 sq mt, was handed over to the "Balasaheb Thackeray Rashtriya Smarak Nyas" in February, clearing the decks for the memorial.
The BTRSN is headed now by Uddhav Thackeray and the memorial site, which includes the sprawling bungalow constructed in the late 1920s, has been the Mumbai Mayor's official residence since 1964.
Earlier on Friday, the entire Thackeray clan including Uddhav, his wife Rashmi, their son and Yuva Sena chief Aditya, besides other family members accompanied by top Shiv Sena leaders, including former Lok Sabha Speaker Manohar Joshi and others paid homage to the late Thackeray at the proposed memorial site.
Later, Fadnavis, accompanied by several cabinet ministers and other party leaders, arrived and paid floral tributes to Thackeray before dedicating the memorial site.
Shiv Sena activists from all over Maharashtra trooped to the memorial site early on Friday and offered tributes and prayers in memory of Thackeray, who passed away on this day in 2012, aged 86.
With IANS inputs