Video: Miscreant in Mercedes torches car parked in Powai society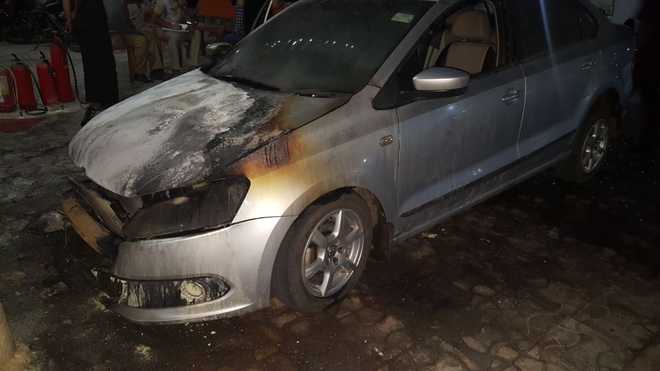 In a shocking incident, an unidentified miscreant set a 32-year-old's car on fire on Tuesday while it was parked inside a residential society in Mumbai's Powai area. The entire episode was captured on a CCTV camera.
The incident took place around 4 am on November 14 when Rohit Mehra, the car's owner, and his wife had come to Powai to meet their friends, who resided at Shiv Om Towers in Nahar Amrit Shakti complex, Chandivali.
Mehra and his friends came to know about the fire when the building's watchman raised an alarm upon seeing the car in flames. His car was parked in the area assigned for visitors' vehicles.
Subsequently, many residents rushed down and helped them douse the blaze with the help of fire extinguishers. Since the parking spot was close to the building's gas pipeline, quick action on the part of residents helped avert a major catastrophe.
However, by the time the fire was completely doused, Mehra's Volkswagen Vento was completely gutted.
Although the watchman could not exactly explain how the vehicle caught fire, a CCTV footage of the area showed that it was intentionally set ablaze by an unidentified individual.
The footage shows an SUV pulling beside Mehra's car, following which a passenger gets down. While the driver of the SUV – a Mercedes – reverses the car to face the exit, the passenger rushes to the Vento with some cans and is hidden from view.
In a matter of seconds, flames start erupting from underneath the vehicle. The arsonist then boards the SUV and exits the spot while the watchman, who was sleeping at the time, remains oblivious to the entire incident.
The Dombivali-resident, meanwhile, can't fathom why anyone would burn his car on purpose. Cops, however, suspect that it might have been a case of mistaken identity as they found similar vehicles parked nearby.
Saki Naka police, who have registered an FIR against the unknown miscreants, also interviewed other car owners but failed to make any headway in the case.
Even the footage from the building's CCTV camera proved ineffective.
"Though the man who set the car on fire was facing the CCTV camera, his features are not clear," a duty officer at the Saki Naka police station told The Tribune.
Cops are now trying to get the footage from other traffic cameras in the vicinity to get the SUV's registration number.
Video: