Corporator brings captured rat to BMC office to highlight rodent menace at civic hospital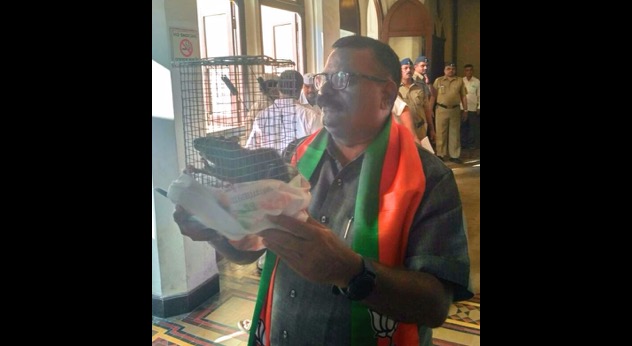 A BJP corporator was asked to leave the general body meeting of the Brihanmumbai Municipal Corporation (BMC) on Thursday after he walked in with a caged rat to highlight the rodent menace plaguing a civic hospital in Kandivali.
The corporator, Kamlesh Yadav, claimed that he had captured the rat alive at Dr Babasaheb Ambedkar Municipal General Hospital (formerly known as Shatabdi) in Kandivali.
Mayor Vishwanath Mahadeshwar, who was presiding over the meeting, asked Yadav and his supporters to leave after their action caused an uproar in the house.
"This was the only way to shake and wake up the administration which has utterly failed to control the menace of rat-bites at the hospital," Yadav told PTI after the incident.
Instead of getting cured of existing aliment, patients and their relatives are required to seek treatment for rat bites which they suffer at the hospital, he said.
"I raised the issue with local ward officer several times, but no action was taken," said Yadav, a third-time corporator from ward number 31 in Kandivali.
"Finally, to bring this menace to the notice of senior civic officials, I went to the hospital, trapped a rat and brought it to the BMC headquarters," Yadav said, asking what the rat catchers employed by the civic body were doing.
Just last week, reportedly two senior citizens – Pramila Nerulkar and Shantaben Jadhav – were bitten by rats. Following which, the civic body conducted a review and identified 160 rat-entry spots at the facility.
When contacted for comment, additional municipal commissioner Idzes Kundan told the agency that strict measures will be taken to rid hospitals of rats and action will be taken against patients relatives who litter hospital premises with pieces of food items.