Danger lurks from above for motorists, pedestrians on Tulsi Pipe road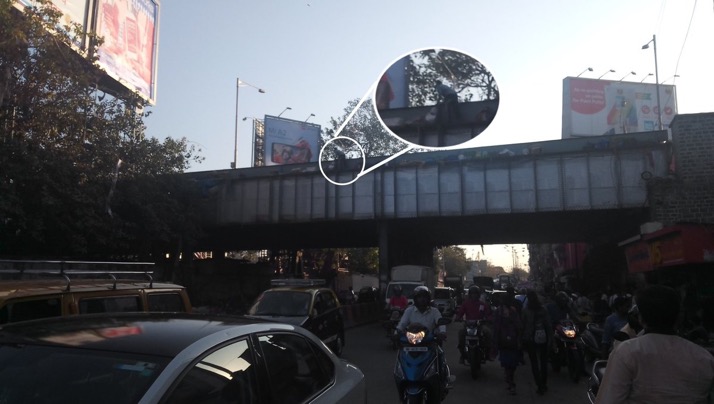 In a blatant violation and disregard for safety, hawkers and squatters in Mumbai's Dadar area have started using the ledge of the century-old Tilak Bridge as storage.
The violation was brought to fore by a citizen who runs the Footpath4Pedestrians (@FreeourFootpath) handle on Twitter. The handle shared the images with Local Press Co earlier today.
In the first image, a person can be seen standing on the ledge – after having scaled the barriers – with a bag in hand. The other shows several cloth-wrapped bags and plastic containers perched on the ledge.
Apart from the obvious risk borne by anyone who climbs on to the ledge, the large bags and containers also pose a risk to scores of motorists travelling on the busy Senapati Bapat Marg (erstwhile Tulsi Pipe Road) below.
The road is also home to dozens of vegetable vendors where people often stop in the evenings to shop for groceries.
A local vendor, who wished to remain unnamed, said it's very common to see people climbing to the ledge to store or retrieve items.
"The bags either belong to hawkers or the homeless. The hawkers use the space to hide their goods in case of a surprise raid by BMC officials. Many squatters who sleep on the bridge's footpath also hide their belongings there," he told Local Press Co.
When asked about the risks, he interjected by saying, "Personally, I haven't come across any untoward incident".
While it's common to find people sleeping on the bridge's footpath every night, they are seldom around during the day when the bridge is packed with commuters. Hawkers, on the other hand, occupy a major portion of the Mahim-bound road.
Mumbai Police, meanwhile, has responded to the user's tweet and asked him to file a complaint online.
"Thank you for writing to us, please share the details of your complaint here: http://portal.mcgm.gov.in or call them on 1916," the tweet from Mumbai Police's official handle read.