Distressed PMC bank depositor dies of heart attack after attending protest rally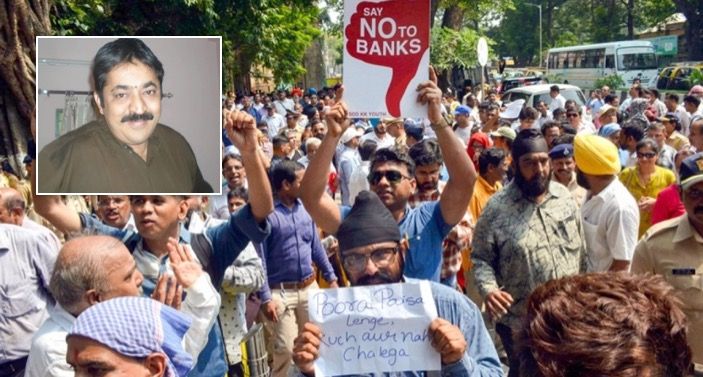 A 51-year-old man, whose family has Rs 90 lakh stuck with the troubled Punjab and Maharashtra Bank Cooperative (PMC) Bank, died of a heart attack shortly after attending a protest rally on Monday afternoon.
The deceased was identified as Sanjay Gulati, a resident of Taporewala Gardens in Oshiwara.
According to Manali Narkar, who was among the agitating depositors, a distressed Gulati had come to the protest march held outside a city court yesterday morning with his 80-year-old father.
Over 200 protestors had gathered outside the court where the prime accused of the PMC bank scam – HDIL directors Rakesh Wadhawan and Sarang Wadhawan and former PMC Bank Chairman Waryam Singh – were produced before the court for a hearing.
In a video made at the protest site, Gulati's father claimed that the family has a deposit of over Rs 90 lakh with the bank.
Prior to the PMC bank crisis, Gulati reportedly lost his job after the grounding of Jet Airways.
"Sanjay and his father C L Gulati worked at Jet Airways. First Sanjay lost his job, now his savings. He had no history of serious ailments. He only had a thyroid problem," the society secretary Yatindra Pal told The Times of India.
"On Monday, he attended a protest rally by depositors, where he saw many agitated and crying. Sanjay returned around 3.30 pm and slept. Around 4.45 pm, he asked his wife to serve food. As he was eating, he slumped and died. We are all shocked," he added.
Gulati was taken to Kokilaben Hospital, where he was declared dead on arrival. He is survived by a wife and a specially-abled son, who requires regular medical treatment.
A few of the depositors will be holding a peaceful candle-light march in the evening, Narkar said.
On September 23, the RBI imposed operational restrictions for six months on PMC Bank, which included capping the withdrawals at Rs 1,000 per account. The move came after it found certain irregularities in the bank, including under-reporting of NPAs.
The limits were increased to Rs 40,000 by the RBI on Monday, and the central bank said 77 percent of the customers will be able to fully withdraw their deposits with this move.