Drunk driver tries to run over traffic constable in Thane, gets thrashed by mob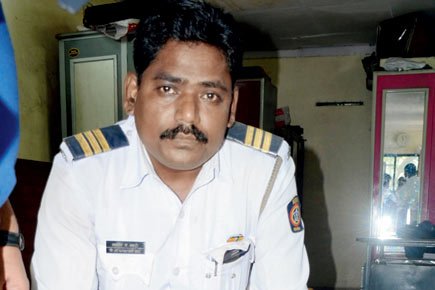 Just four days after the tragic demise of Vilas Shinde, another shocking incident involving an attack on a traffic constable has come to pass in Thane city. In this case, a drunk driver crashed his car into the constable and drove a few metres before he was made to stop by the locals and handed over to the cops.
The incident occurred around 9 am on Saturday morning when constable Narsingh Mahapure was on duty at Teen hath Naka, a busy junction that sees a lot of traffic during peak hours.
While managing the traffic, Mahapure noticed a black Maruti Ertiga driving in the wrong way and jumping a traffic signal. The constable, attached to Naupada traffic division, immediately sprung into action and blocked the car's path. The driver, Yogesh Bhamre, stopped the vehicle just before Mahapure.
When the constable asked him to show his papers, the 27-year-old driver warned him to get out of his way. But Mahapure was persistent. In a fit of rage, Bhamre reversed the car and then drove towards Mahapure. The driver's action took the constable, who at the time was unaware about his inebriated state, by surprise. With little time to react, Mahapure was unable to get out of the way.
Bhamre rammed his car into the constable's knees, while continuing the drive forward. Mahapure fell face-first on the car's bonnet. While the car was in motion, he clung on to it by holding on to the edge of the bonnet and rear view mirror. Bhamre even tried to swerve the car to get the constable to fall off from it, but Mahapure held on and shouted for help.
Luckily, motorists and rickshaw drivers came to the constable's rescue in no time and cornered Bhamre's vehicle from all sides, forcing him to stop. After the car came to a halt, Mahapure was immediately rushed to Thane civil hospital where was treated and later discharged.
Meanwhile, the crowd ganged up on Bhamre and thrashed him before handing him over to the cops. Bhamre was also accompanied by another passenger, who fled the spot as soon as the car came to a halt.
"When we took Bhamre into custody, he was so drunk that he couldn't even stand straight. When we questioned him about the incident, he kept rambling and cussing us. We knew it was pointless to talk to him at the time. Fortunately, Mahapure did not suffer any serious injury because of this errant driver," said an official from Naupada police station.
He also assured that the accused will be dealt with sternly to ensure that people understand the consequences of putting a public servant's life in danger.
Bhamre has been booked for attacking a public servant, drunk driving and rash driving. He is currently in police custody.
Just four days back constable Vilas Shinde, who was attacked by a motorist and his brother on August 23 when he asked him for a license, succumbed to his injuries. Shinde was brutally assaulted by the brothers at HP petrol pump on SV Road, Khar (West).