Engineer spots crack on track at Kurla station, helps avert major mishap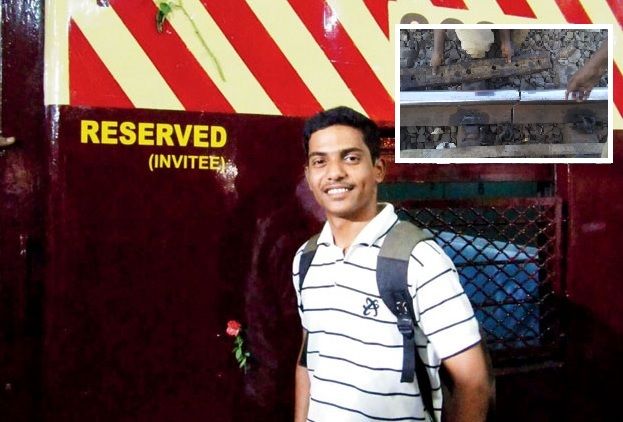 A 23-year-old engineer helped avert a major mishap on a busy Monday morning, when he spotted a crack on the railway track at Kurla station and alerted the motorman about it's presence.
Gururaj Sakpal was on his way of work on Monday morning, when he alighted the train at Kurla station to change trains. While he was waiting on Platform 7 to catch the train to Andheri, he spotted a 2 inch crack on the track and rushed to the motorman to inform him about the danger lying ahead.
The Chunabhatti resident also called the railway helpline and informed them about the anomaly.
After being informed about the crack, motorman Paramhans R Giri inspected the track and found that the tracks' fishplate was loose. The fishplate is the metal part that is bolted to two ends of the rails to join them. If damaged, it can cause the train to derail.
Around 8 am, when Giri alerted the control room, he was asked to go over the track at a speed of 10 kmph. The train left the platform without any issues and by 8:15, repairmen were able to fix the problem.
Incidentally, another crack was found on the track near Wadala on Monday. While the track was repaired in 30 minutes, it resulted in the delay of over 10 harbour line locals.
Following the incident, Venu P Nair, General Secretary of National Railway Mazdoor Union said that Sakpal's action might have helped avert a major accident and save lives.
The 23-year-old, unsurprisingly, is a rail enthusiast and an active member of the Indian Railways Fan Club Association (IRFCA).