Holi 2018: Over 11,000 booked for traffic violations in Mumbai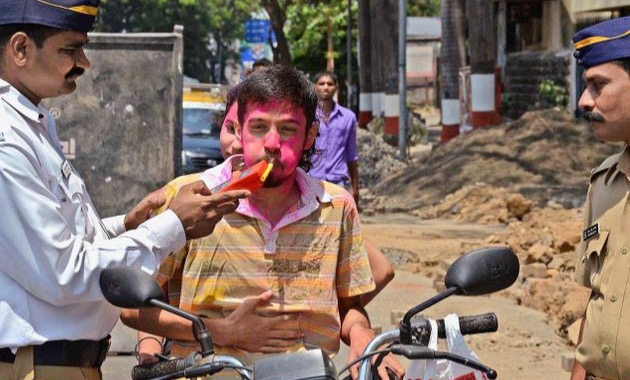 On the occasion of Holi, officials from Mumbai police and Mumbai traffic police caught over 11,000 motorists for various offences including drunk driving, rash driving, riding without helmet among others.
For the festival of colours this year, Mumbai police had deployed 6,500 policemen in addition to the 2,500 traffic cops to ensure no untoward incidents take place on city streets.
Precautionary measures like the formation of anti-eve teasing squads, night patrolling, city-wide nakabandis and deployment of women constables were taken to maintain law and order.
According to Mumbai police spokesperson DCP Deepak Deoraj, a total of 11,018 offences were registered during Holi 2018. The maximum number of motorists were booked for riding without helmet and drunk driving.
A breakdown of the offences registered by the police are given below:
Offences registered by Mumbai Traffic Police during Holi 2018:
1. Riding without helmet: 1342
2. Riding triple seat: 186
3. Drunk driving: 375
4. Rash driving: 19
5. Other: 1030
6: Overspeeding: 2403
Total: 5355 cases.
Offences registered by Mumbai Police (under Motor Vehicle Act) during Holi 2018:
1. Riding without helmet: 3075
2. No parking: 348
3. Drunk driving: 368
4. Rash driving: 6
5. Other: 1866
Total: 5663 cases
While the number of cases registered by traffic police is higher than last year (4,621 cases were registered in 2017 compared to 5355 in 2018), the increase can be attributed to the presence of more officials on the streets and easy of issuing e-challans to offenders.
Alarmingly, the number of drunk driving cases registered by traffic police also increased from 317 in 2017 to 375 in 2018.
In addition, a total of 52 people were reportedly admitted to civic hospitals on Friday. The most common recorded injuries were related to irritation in the eyes (due to colours), dehydration and nausea.
Meanwhile, Delhi Traffic Police booked 9305 people for traffic violations, out of which 1,918 were booked for drunken driving.