How Uddhav's ascension marks the end of Balasaheb's Sena: A Shiv Sainik's view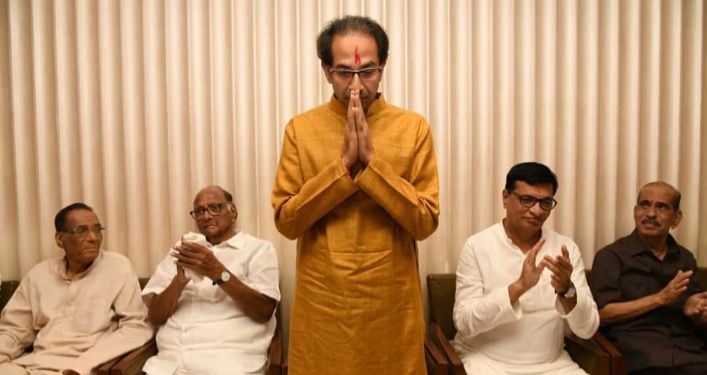 Disclaimer: This opinion piece has been contributed by a 'Guest Author'
I consider myself a Shiv Sainik. I have done so, proudly, for the last two decades. But the Shiv Sena I once revered is on life support. For me, it will die today the moment Uddhav Thackeray is sworn-in as the new Chief Minister of Maharashtra.
It was in the late nineties when I first heard Balasaheb Thackeray giving one of his iconic speeches. What caught my attention were the words "ha mazha Maharashtra aahe". His voice boomed and a thunderous applause followed. I was watching him on my TV screen, but the charisma he exuded transcended the boundaries of radio waves. His authoritative style and command over Marathi left me spellbound. From that day, I diligently started following his work, his party, and his public speeches.
One can argue that there's no dearth of good orators in the political sphere. What made Balasaheb different though, in my books at least, was the ease with which he could inspire thousands during rallies and best his biggest critics in one-on-one interviews. The ones with Rajat Sharma and Karan Thapar come to mind.
No leader from any generation displayed a more exemplary mixture of wit, humour, sarcasm, defiance, and ruthlessness. No one could sway voters with words the way he did. And no one has since.
But more than the speeches, it was his 'Marathi-first' ideology that resonated with me, and thousands of others like me. The thought might seem communal and dated today, but it was something the Maharashtrians of the time desperately needed. In a country where caste-politics still holds sway, the community felt inadequately represented despite all its contributions to the union.
In the late 80s, he broke the back of the communist-backed unions, who had crippled the city he considered home. This fuelled a rise in popularity and paved way for his elevation to the upper echelons of power.
Balasaheb founded Shiv Sena in 1966 with a clear set of pro-Marathi principles. The Maharashtrians, mind you, were far from a homogeneous group. Divided by caste, income, area and other factors, he played a pivotal role in consolidating their votes. Under his leadership, the party embraced the philosophy of 'Hindutva', allied with BJP and ended Congress' 35 year rule in Maharashtra.
To me, the Shiv Sena is a reflection of Balasaheb's ideology and a means of carrying his legacy forward. A legacy that Balasaheb and his son Uddhav had to fight hard to preserve.
Those who have followed the Thackerays closely since their early days would know that Balasaheb's nephew Raj was more like him than his son Uddhav. He was appointed the leader of Sena's youth wing in 1988, at least two years before Uddhav formally joined politics.
Raj was a firebrand leader who was adept at invoking his uncle's ideology. Uddhav, in contrast, was interested in wildlife photography and came across as a more reluctant leader. Some senior Sena leaders of the time had even cautioned Balasaheb against handing over the reigns of Sena to Uddhav. But, once he declared his son as his successor, it became the duty of every true Shiv Sainik to follow Uddhav unquestionably.
Raj Thackeray left the Sena in 2005 to form his own party, Maharashtra Navnirman Sena (MNS).
In the 2009 Maharashtra Assembly Elections, MNS won 13 seats including Mahim, a Shiv Sena stronghold. Since both pro-Marathi parties were vying for votes from the same people, it was safe to say every single vote MNS got came at the expense of Sena.
Although Sena won more seats than MNS, its total tally fell from 62 seats on 2004 to 45 seats in 2009. Uddhav's detractors saw an opening and hailed the results as 'the end of Shiv Sena'.
In the five years that followed, the Sena chief persevered. He slowly, but surely, consolidated his votes, stopped leaders from defecting and regained lost ground. The result – Sena trounced the MNS, reducing the latter's tally to a meagre one seat in the 2014 elections. It also improved its own tally from 45 seats in 2009 to 63 seats in 2014.
Balasaheb, however, never got to see his son Uddhav besting cousin Raj. He passed away on November 17, 2012, marking the end of an era in Maharashtra politics. The metaphoric remote control, which allowed the Sena founder to stay in power for decades without ever contesting any election, passed on to Uddhav.
And as is the way with life, things moved forward. Uddhav remained at the helm and continued to work on the principles and foundation laid by Balasaheb.
Incidentally, the rise of MNS wasn't the only imminent 'threat' to Uddhav's Sena. The 2009 elections were also the first time Sena's saffron ally, the BJP, won more seats in the state (BJP won 46 seats, one more than Sena).
The Sena-BJP alliance strengthened during the era of LK Advani, Atal Bihari Vajpayee, and Balasaheb, with 'Hindutva' being the binding force. And despite being a national party, the BJP remained a junior partner of the Sena in Maharashtra till 2009.
The near 25-year-old alliance broke for the first time in 2014, when the Modi-wave ushered in a new era for the BJP.
In the run up to the 2014 elections, the BJP demanded over 140 seats during the initial round of negotiations. When Sena refused to budge, it reduced the demand to 130 seats. Offering 130 seats to BJP, excluding the 18 seats meant for other NDA allies, would leave Sena with just 140 seats. And Uddhav saw the demand for what it truly was – a change in status quo.
Even before entering politics, Uddhav had seen people coming to Balasaheb and make requests. No one dared make a demand. The BJP was trying to change that now and it was unacceptable to the Shiv Sainiks. The Thackeray pride was at stake and giving in to BJP's demand might set a dangerous precedent. So, Uddhav did the unthinkable. He severed the long standing ties decided to fight the elections without the BJP.
Contesting elections alone wasn't Uddhav's biggest folly though. It was thinking that respect is inherited. It isn't. It has to be earned.
In the 2014 polls, BJP contested on 230 seats and won on 122, emerging as the single largest party. In contrast, the Sena fielded candidates on 282 seats but managed to win just 63. The writing was on the wall. The BJP had delivered a knockout punch and this time, it hurt Sena more than the opposition parties.
Eventually, better sense prevailed and both parties came together to form a government led by BJP's Devendra Fadnavis. It was during this five-year tenure that Sena, for the first time, played second fiddle to BJP. It was also the time the seeds of discord were sown.
As time progressed, it became evident that Uddhav, reminiscing over Sena's glory days and unhappy over his party's current place in state politics, had surrounded him with leaders who echoed his thoughts. How dare they disrespect Balasaheb's party, how dare they treat you any different from your father – the yes men whispered to Uddhav.
The prevailing thought was that Maharashtra, which had never bowed before Delhi, was now dancing to the tune of Narendra Modi and Amit Shah.
The alliance was an uneasy one, to say the least. And while it remained intact for the entire five-year tenure, it was marred with several instances of BJP or Sena leaders openly criticising their 'ally'. A notable casualty of the squabbles were the BMC elections in 2017, during which the two parties fought separately.
The Sena came out on top, but the BJP had come closer than it ever had. Uddhav wasted little time in garnering the support of independent candidates, which sealed the deal for Sena. Later, the BJP relented and support Sena's mayoral candidate to keep things amicable.
Ahead of the 2019 assembly polls, which came months after the BJP-led NDA's resounding victory in the Lok Sabha elections, the Sena went on the offensive again. It targeted PM Modi on issues related to demonetisation, farmers, unemployment, and others. The barrage of attacks continued right until the day Amit Shah visited Matoshree.
Shah's visit had two very visible and immediate ramifications. It put an end to all bickering and paved the way for another pre-poll alliance. This time, the BJP would contest on 152 seats and the Sena on 124. Another first was the entry of Aaditya Thackeray, Uddhav's son and heir apparent, in politics. A significant step for the party as it ditched Balasaheb's 'remote control' brand of politics and embraced electoral politics.
The opposition alliance of Congress-NCP was destined to fight tooth and nail, but most political pundits were confident of a Sena-BJP victory.
On October 24, the inevitable happened. The BJP behemoth won 105 seats and Sena emerged victorious on 56 seats. Even without the other allies and independents, the parties had secured an easy majority. The saffron alliance's victory meant Devendra Fadnavis leading the government and becoming the Chief Minister for the second time.
The seemingly done deal, however, came undone overnight. Unbeknownst to most, the Sena had sought to nominate its own candidate as CM for 2.5 years if the NDA came to power again. The non-negotiable condition, Sena claims, was a part of its pre-poll alliance with BJP. On their part, the BJP says it never agreed to share the CM's post.
Instinctively, I trust the Shiv Sena more than the BJP. But as far as the condition of CM post was concerned, I wasn't sure. If the media frenzy surrounding what was discussed in a closed door meeting played a role, it was of further muddling the truth.
In the the weeks that followed, the truth became akin to an inconsequential technicality and the lust for power took centre stage. The narrative about who lied was rendered meaningless. The goal now was to lay siege to the CM's chair, means be damned.
The way Sena, NCP and Congress scampered to safeguard their flock MLAs from BJP's alleged poaching attempts, Fadnavis' three day CM term and Ajit Pawar's backflip ruled the airwaves for a few days. Yet, none of these developments will remain etched in public memory for long.
For me, the culmination of the events that transpired between the declaration of results and the impending swearing-in ceremony of Uddhav Thackeray mark the end of Balasaheb's Shiv Sena. And from its metaphorical ashes has risen a political outfit characterised by blatant opportunism, greed for power, bereft of values or ideology, and a mere shadow of its former self.
I, regrettably, say so because the Shiv Sena I knew would never:
Seek power under the guise of promise to Balasaheb
In recent weeks, the party has been harping on electing a 'Shiv Sainik as CM' in a bid to fulfil a promise Uddhav made to Balasaheb. But, weirdly, it chose the election season as the time to make this crucial promise public.
Now, even if the promise was made, did Uddhav commit on appointing a Shiv Sainik as CM in the year 2019 itself?
And was Uddhav so dependant on BJP on fulfilling his promise that he would appoint one for half-term now with BJP's help, than elect one for a full five-year term on its own strength in future?
I find it hard to imagine how anyone with half the number of seats as their ally expects an equitable distribution of power. One only needs to look back to 1995, when the BJP was a junior partner, to see if the CM's post was rotational. And to save you the trouble, I can tell you that it wasn't. The Sena appointed its candidate as CM because it had more seats. If it seemed fair then, when the difference was of just 8 seats, how has it become unfair now when the difference is of 49 seats?
Be driven by opportunity, arrogance or both
Ever since Modi came to power, there has been a perceived imbalance of power in the partnership between Sena and BJP. The Sena, which dominated state politics in the last decade, has been forced to live in BJP's shadow. Matoshree's deference is evident from the fewer visits by state leaders and other political figures. Modi and Shah are indirectly calling the shots from Delhi.
The imbalance of power has clearly left an impression on Sena and its chief. It, therefore, came as no surprise when a section of the media reported on Uddhav telling party MLAs that the time to "teach Modi and Shah a lesson" has come. The reports cite inside sources, so take it with a pinch of salt. But, in the current political scenario, wouldn't the statement seem more plausible than not.
Moreover, the BJP won more seats than any other party in the recent polls. Yet, in addition to its own MLAs and other independents, it needed around 25-30 more seats to reach the halfway mark. Uddhav knew BJP wouldn't ally with NCP or Congress, which meant that it needed Sena to come to power. Knowing that, playing hard bargain seemed like a politically sound decision. But did it warrant the events that followed?
Push for Aaditya Thackeray as CM
Today, almost everyone knows that Sena's first choice for CM was Aaditya Thackeray. Sanjay Raut, who is considered close to Uddhav, kept dropping hints about the Thackeray scion's elevation throughout the election season while being ever so careful as to not name him directly.
What's surprising though, is that there is no dearth of senior and loyal leaders in the party. Yet, not one was deemed worthy of the top post. Uddhav and his advisors saw it fit to appoint a 29-year-old first time MLA to the coveted post in the state even before he could serve his constituency for one full term.
Mind you, Aaditya would have still been the number one candidate had it not been for Sharad Pawar, who allegedly refused to consider his candidature for the top post. Without taking anything away from Aaditya, who could potentially become a CM on his own in the future, the sheer nepotism of it was unbecoming.
Ally with Congress and NCP
Balasaheb always used the choicest of words when it came to Sharad Pawar or Sonia Gandhi. The internet is littered with his witty and unabashed remarks about his biggest political contemporaries. The Congress was the 'Joker' to his 'Batman'. Sharad Pawar, on the other hand, remained a 'slippery' friend till the end.
Its how things were when he was around and how they continued after he passed away. Right until the day the BJP refused to play ball and a distraught Uddhav sent an overzealous Sanjay Raut to seek Sharad Pawar's help. Whether the move was intended to sway the BJP, keep them out of power or seize power for their own party, I don't know.
To his credit, Uddhav knew that bowing down before the BJP again might make him look weak in front of the party and voters. So, his refusal to accept BJP's terms seems, at least in part, justified. However, it doesn't take a political mastermind to figure that a worst-case scenario with an in-power BJP is miles better than the alternative. Especially if it involves alienating its most loyal voters.
From the recent press conferences and interviews, it's obvious to most that Sharad Pawar is toying with the Sena. Yes, he is making Uddhav the Chief Minister. But, he will remain the keeper of the keys to power. Congress, on the other hand, is out to make the most of the situation.
The only difference is that both NCP and Congress can save face in front of their voters by saying 'we did it to defeat BJP'. What excuse will the Sena have for those who voted for it because of their alliance with BJP, who wanted to see Fadnavis as the CM or those have blindly trusted Sena since decades because of its Hindutva ideology.
The most pertinent question about the situation isn't whether the Sena-NCP-Congress alliance will fail. It will. The question is what happens to Uddhav and his Sena after it does.
Lose the moral high ground
The BJP may have robbed Sena. But the Sena lost its moral high ground when it announced its decision to ally with NCP and Congress. If that wasn't enough, the likes of Sanjay Raut continue to desecrate everything Balasaheb and the Shiv Sena stood and strived for, all while keeping a straight face on TV.
On a lighter note, Raut's interviews could also prove fateful for the party's supporters, who may start feeling dazed and confused if they even try to keep up with the speed at which he is taking u-turns.
But more importantly, no one knows where Sena stands on Hindutva, Savarkar, Muslim reservation etc going forward. Not that frenzied reporters haven't tried to ask. They have. But the way Uddhav and his troupe have avoided the questions beggars belief.
Another disappointment is that there's no other Shiv Sainik today who can stand up to Uddhav and tell him that he is wrong. That his father would have never allowed this. That it's better to compromise with your ally than to compromise on your values. As of writing this, only one leader (Ramesh Solanki) has resigned from the Sena over its alliance with Congress. And it pains me to see he is the only one.
In its 50 plus year history, if there was one instance that brought shame to Sena, it was when Balasaheb publicly supported Indira Gandhi during the 1975 emergency. But that pales in comparison to what's happening now. This, to my mind, is a bigger betrayal of voters trust.
1975 was an act of survival, 2019 is an act of greed.
Today, the BJP has lost an all-weather ally in Sena and been evicted out of the corridors of power. Yet, their loss seems marginal when compared to that of Uddhav and Sena, who are set to hand over Balasaheb's metaphorical 'remote control' of power to the very people he wanted to safeguard the state from.
As for Sharad Pawar and Sonia Gandhi, well played. You could never best Sena's tiger, but you have finally managed to tame the cub.
---
Disclaimer: This article is an opinion piece. All information, facts & opinions expressed herewith are of the author alone and do not reflect the views of Local Press Co and its team. If you have any feedback about the same, you can write to us at editor [@] localpress.co.