Lower Parel railway bridge to reopen for pedestrians today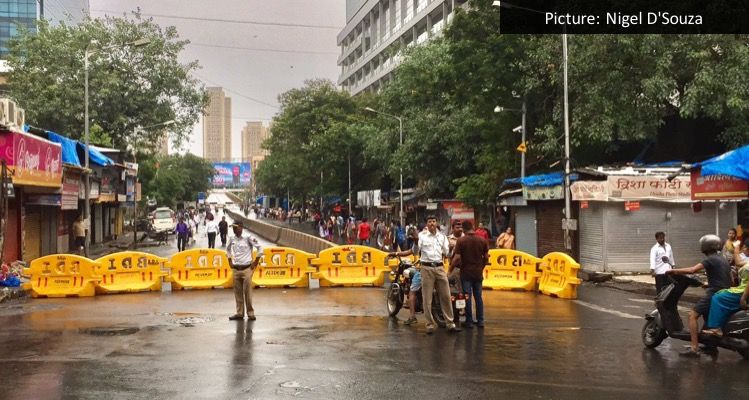 In a good news for rail commuters, Western Railway and BMC have decided to reopen a part of the Delisle bridge-Lower Parel railway bridge for pedestrians after a second audit on Thursday.
The bridge was closed for vehicles and pedestrians from July 24 after a joint audit by Brihanmumbai Municipal Corporation (BMC), Western Railway (WR) and Indian Institutes of Technology (IIT-B) deemed it unsafe.
The closure led to major chaos in the area on Tuesday as thousands of railway commuters were forced to enter and exit the station premises from a relatively narrow stretch, amid the looming possibility of an impending tragedy.
Following several complaints and public outrage, a team of BMC officials, local politicians, and traffic police visited the spot around 11 am today to conduct a second audit, after which it was decided to reopen the bridge for pedestrians from today evening.
Once reopened, commuters will be able to use one lane of the bridge – road and not the footpath – to enter or exit Lower Parel station.
Railway authorities, meanwhile, will mark the section of the bridge that is unsafe and put up barricades and other notices to ensure no one uses that stretch.
Motorists, however, will have to continue using alternate routes as there are no plans of reopening the bridge for vehicles as of now.
The audit, incidentally, was not without its share of controversy. During the visit, supporters of Shiv Sena MLA Sunil Shinde and former corporator of MNS Santosh Dhuri got into a minor altercation after the former accused the latter of invading on their visit.
Fortunately, the team of local police officials managed to bring the situation under control before it could escalate.
Apart from Shiv Sena and MNS, activists of NCP-Congress were also on the spot, all seemingly wanting to take credit for the bridge's partial reopening.
The decision to conduct another audit was taken in a meeting on Wednesday between BMC chief Ajoy Mehta, senior civic official, senior railway officials, local members of legislative assembly and corporators.
While the railways agreed to take steps to abate the overcrowding, it was skeptical about setting a precedent for second audits as it would undermine the work of the joint team tasked with surveying the city's 400 plus bridges.
As per the current plan, the railways will construct the bridge and BMC will build the approach road for vehicles. The cost of construction will be borne by the civic body.