Mumbai CA files PIL in Bombay HC, seeks scrapping of Rs 3600 crore Shivaji memorial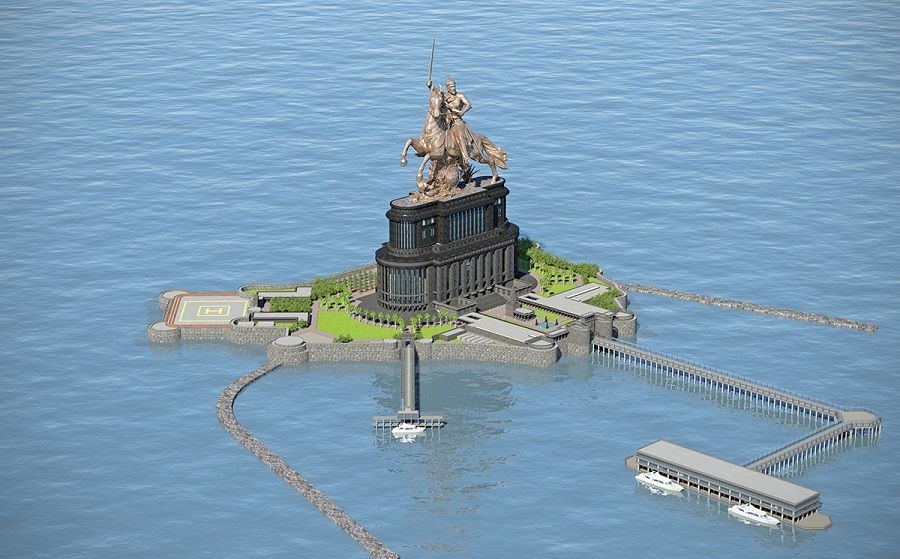 A Mumbai-based chartered accountant and professor has filed a PIL in the Bombay High Court against the Maharashtra government's Rs 3,600 crore 'ambitious' Chhatrapati Shivaji memorial project.
The 192-metre-high statue of the Maratha warrior king will be constructed inside the Arabian sea.
The project has been shrouded in controversy since its announcement due to opposition from citizens, activists and environmentalists. Despite the staunch opposition, Prime Minister Narendra Modi laid the foundation stone last month.
The PIL, filed today by Mohan Bhide, claimed the government's decision to spend Rs 3,600 crore on such a project was "illogical and uncalled for". Bhide runs Bhide Kapasi classes in Mumbai.
"I have full respect and honour for Chhatrapati Shivaji Maharaj. But I am against the huge expenditure of hard-earned tax payers' money. The project of constructing a statue in the middle of the sea is nothing but a political stunt of all political parties operating in Maharashtra," the PIL said.
The petition has sought has sought the scrapping/cancelling of the entire project.
"The proposed budget for the said project is about Rs 3,600 crore. Merely for the opening ceremony, the state government spent Rs 77 crore. All this expenditure at a time when the government is itself facing financial crunch is unnecessary. Last year, the government declared drought in over 25,000 villages," the petition said, noting the government should first focus on addressing these issues.
"The public at large is not concerned with building of such memorials. The public expects the state government to provide a better standard of living and better public amenities which is the priority of the day," the petition said.
The petition further said if political parties want to create a memorial for Shivaji Maharaj they should first take steps towards maintaining the forts built by Shivaji and his descendents across the state.
"Many of these forts are in a dilapidated condition and the government has not taken any measures to retain them," the PIL alleged.
Bhide's lawyer Ketan Parekh mentioned the petition today before a division bench of Chief Justice Manjula Chellur and Justice G S Kulkarni which said it would take it up for hearing in due course of time.
Chief Justice Chellur, however, remarked, "Have you (petitioner) seen the statue at Kanyakumari in Tamil Nadu or the statue at Hussain Sagar lake in Hyderabad? If those state governments can afford it we are sure the Maharashtra government is richer. Even they can afford."
An online petition to stop the government from constructing the memorial has also received