Mumbai to Pune in 25 mins: Virgin group inks pact to bring Hyperloop to Maharashtra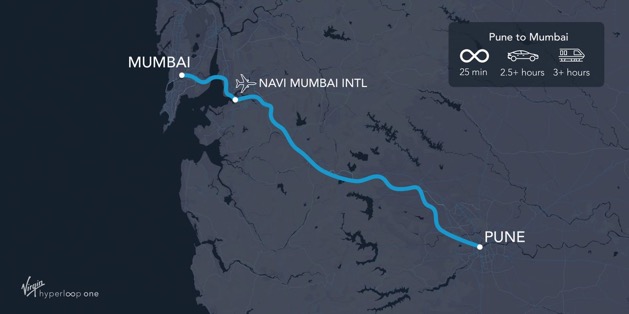 The Virgin Group signed an 'intent agreement' with the Maharashtra government on Sunday to build a hyperloop transportation system between Mumbai and Pune, expected to cut down travel time to 25 minutes from the current 3 hours.
The first hyperloop route will link central Pune with Mumbai and the proposed Navi Mumbai international airport, the foundation stone for which was laid by Prime Minister Narendra Modi.
Apart from India, the US-based company is working on similar projects in countries like UAE, US, Canada, Finland, and the Netherlands.
"We have signed an agreement with Maharashtra to build a Virgin Hyperloop between Mumbai and Pune, beginning with an operational demonstration track in the region," said Virgin Group chairman Richard Branson.
Branson made the announcement during the Magnetic Maharashtra investors summit. The summit is being held at MMRDA Ground at Bandra-Kurla Complex.
With easier access to airport gates, the loop will be able to ferry 15 crore passengers every year, he said.
"The proposed hyperlink system will transform the transportation system and make Maharashtra a global pioneer in the space. The socio-economic benefits of the project is $55 billion, and will create thousands of jobs," Branson added.
The project is expected to cost around Rs 20,000 crore, which works out cheaper than conventional means. In addition, it will help curb accidents, reduce travel time and cut emissions.
While details are awaited, the hyperloop route will be a fully electric system that can travel at up to 1,000 kmph. The futuristic mode of transportation relies on magnetic levitation in sealed tubes, which allow pods to travel at high speed without any air friction.
The proposed project will begin after a six-month in-depth feasibility study to analyse and define route alignment, including environmental impact, economic and commercial viability, the regulatory framework and cost and funding model suggestions.
According to some experts, it will take up to six years to begin commercial operations.
Modi, who inaugurated the global summit last week, praised the country's financial capital, saying its newly developing infrastructure is linked not just to its "maximum aspirations" but to the aspirations of the entire middle class of the country.