Parachutes in Ghansoli: Suspects were adventure sports enthusiasts, not terrorists, cops say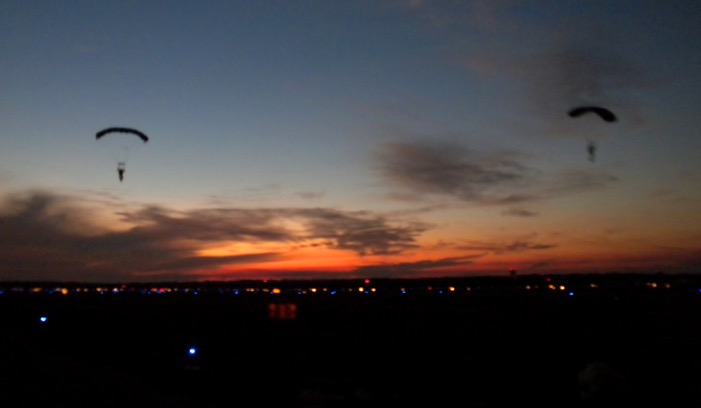 Two persons who reportedly parachuted into Navi Mumbai's Ghansoli area on Saturday night, resulting in parallel probes by police and Maharashtra ATS, were likely adventure sports enthusiasts, cops say.
Locals spot suspicious parachutes in air
According to eye-witness accounts, two persons landed on a parachute on Palm Beach Road near Ghansoli creek between 8 pm and 9 pm on Saturday night. While their faces were not clearly visible, one of them was believed to be a woman, likely a foreigner.
The incident, a first in the area, triggered panic and chaos among locals who alerted authorities suspecting terror-related activities.
Following the incident, Deputy Commissioner of Police (Zone-I) Sudhakar Pathare said the police were verifying the claims of residents and multiple teams were analyzing footages from CCTV cameras in the area.
"Witnesses told police that the two persons, including a woman, landed on the road in night, sat in a car waiting for them, and left," an official said.
However, given the nature of their arrival, the Anti-Terror Cell, Maharashtra ATS, and other agencies began investigating the incident. The police also reached out to the nearest paragliding clubs to ascertain if any of their customers were involved.
Suspects likely base jumpers, adventure enthusiasts
After probing the case for two days, agencies have found that there was no reason for panic as the unidentified persons were likely engaged in 'base jumping', an adventure sport similar to parachuting.
"After speaking to experts, we learnt that it was not a parachute. The two individuals were base jumping, an activity that does not require any prior permission or license," Pathare told The Hindu.
"The individuals were seen in the area since 3 pm with their base-jumping equipment. When questioned by a local, they told him they were adventure sports enthusiasts. Since it was the first time the residents saw anyone base jumping, they were afraid and suspicious," the DCP added.
The sport involves jumping from a high cliff with a winged suit and landing with the help of a parachute. There are several centres in Kamshet and Virar that offer courses on base jumping.
The gliding marks typically made by a base jumper were found on the terrace of a nearby high-rise and the spot where they landed.
As for their 'foreign' credentials, cops say that since the course is available at a margin of what one would pay abroad, it's likely that foreigners had taken the course here.
Nevertheless, police are still trying to ascertain the identities of the persons who landed in the area. Meanwhile, they have said there was no cause for concern.
Similar incident
Back in 2016, panic gripped locals after a student claimed to have spotted suspicious men in Pathani suits in Navi Mumbai's Uran area. A state of high alert was declared in neighbouring cities and a manhunt was launched to apprehend the suspects.
However, the search operation was called off after a few days when the sightings were found to be a hoax.