Remove red beacon from your vehicle: RTO to Mumbai Mayor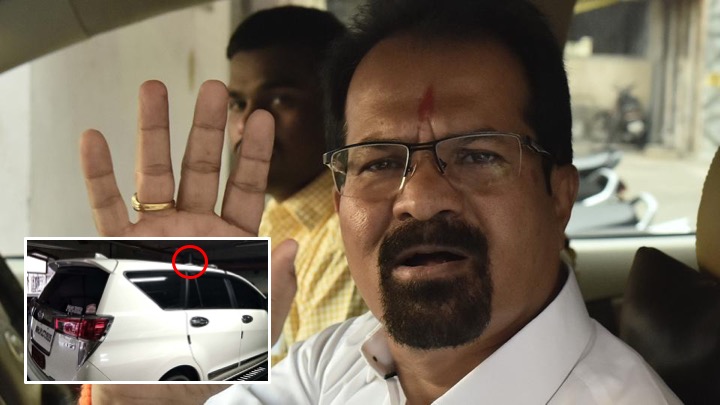 The Tardeo Regional Transport Office (RTO) has issued a notice to the Brihanmumbai Municipal Corporation (BMC) asking it to remove the red beacon installed atop the car used by mayor Vishwanath Mahadeshwar.
The RTO initiated the action after a media report highlighted that Mumbai's first citizen was still using the red beacon on his car despite a ban on its use across the country.
The BMC administration had installed a red beacon on the mayor's newly purchased Innova Crysta car.
The vehicle, registered at Tardeo RTO on October 4, was also embroiled in another controversy over exceeding the mandated budget. Prior to purchasing the Innova, the Shiv Sena politician was using an XUV 500, which also sported the red beacon.
The notice was issued to the executive engineer (transport) of the BMC to remove the red beacons on the mayor's cars, said a senior civic official. When contacted Mahadeshwar questioned if the RTO had the authority to send a notice to him.
He said, "I have not received any such letter or notice. I don't know whether such a notification has been issued by the union government."
Civic officials, however, told HT that they have received the RTO's notice and brought it to the notice of higher-ups including the mayor and his secretary.
In a bid to do away with the VIP culture in the Prime Minister Narendra Modi had announced the decision to do away with the use of red beacons atop VIP vehicles in the country from May 1.
The union government had issued a notification banning the use of red beacon on the cars and subsequently the transport ministry had amended the Central Motor Vehicles Act, 1989.
Beacons are allowed only on ambulances and police vehicles.
Meanwhile, the political opponents of the mayor tried to corner him over the issue and slammed him for his "obsession with the VIP culture".
"Why is he so obsessed with the red beacon? He has become so obsessed with the red beacon that he has forgotten it is not a permanent feature for him. His beacon is illegal and RTO should act against him if he does not abide by the rules," Sanjay Nirupam, president of Mumbai Congress said.
Earlier, Mahadeshwar's predecessor Snehal Ambekar had also refused to do away with the red beacon. Chief Minister Devendra Fadnavis, incidentally, has removed the red beacon from his vehicles.
With agency inputs