RPF constable suspended for molesting woman at Kalyan station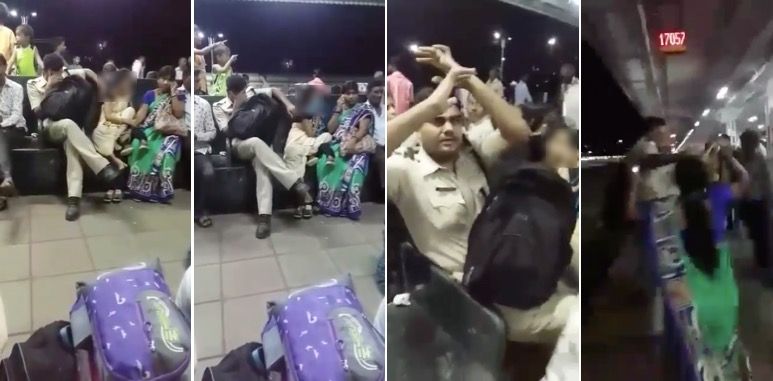 In a shocking incident, an RPF constable was caught on camera trying to molest a female commuter waiting at Kalyan station earlier this week.
The incident is believed to have taken place on June 18, when the constable, identified as Jehangir, was waiting at the bench at platform 6-7 of Kalyan station.
The constable was brushing his hand on the back of the female seated beside him when a commuter seated on the opposite side noticed his behaviour and started recording the episode.
In the video, which is now viral on social media, the constable can be seen touching the female repeatedly even as she tries to avoid him. After a few seconds, the woman accompanying the victim (in green & purple saree) raises an alarm.
In no time, a man seated on the same bench slaps the constable, while others gather around him and begin abusing. The constable tries to make a run as the crowd begins to turn hostile. He can be seen running away from the crowd as the video ends.
The constable was suspected with immediate effect after the incident came to light.
"As soon as we came to know about this video, our Kalyan inspector called the constable and questioned him about the same. He then confessed to committing the crime. We immediately suspended him," RPF senior divisional security commissioner of the Central Railway, Sachin Bhalode, told Mid-Day.
"He is a constable and posted at Kalyan RPF. He has not yet revealed to us the date when the event has happened but we are currently investigating it. For us, the women's security is of prime importance and any individual who does not respect that will not be spared by us," he added.
Jahangir, who was posted at Kalyan police station, has not been booked for molestation as of publishing this report.
The railways recently introduced the concept of Mahila Shakti teams that constantly patrol railway premises to ensure the safety of female commuters. Each team consists of a woman officer.
Note: Video withheld to protect victim's identity.