Thane police solve Krishna temple robbery case in 8 hours, recover all stolen jewellery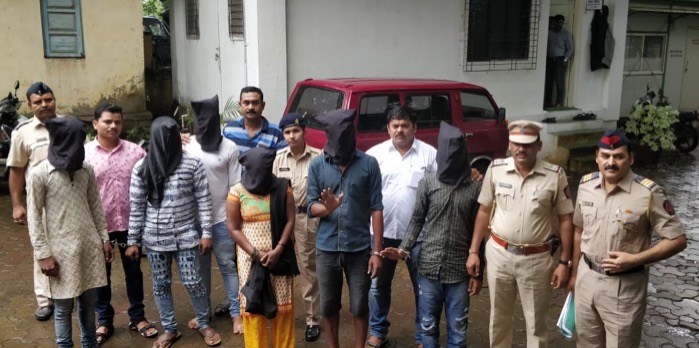 In an impressive feat, Thane police arrested six persons in connection with the theft of gold and cash worth around Rs 50 lakh from Krishna temple in Jambhli market area, barely eight hours after the crime was reported.
According to police, the temple's caretakers had removed the jewellery from the idols on Saturday morning to prepare for Janmashtami celebrations. It was put back in its place around 10 pm that same night.
However, when the caretakers, Paresh and Meena Pandit, opened the temple door around 7:30 am on Sunday, they found the place in a complete disarray and the gold and . silver jewellery missing.
About 900 gms of gold and 20 kg silver, worth approximately Rs 38.5 lakhs, was stolen. In addition, the thieves had also robbed the daan-petis (donation boxes) and Rs 9 lakh cash that the priest had received for safekeeping.
Further, the rear door of the temple had been broken and the CCTV installed inside the premises had been tampered with.
The temple's management immediately reported the matter to the cops, following which Thane Nagar police filed an FIR and started investigation.
The police managed to trace the burglars by evening and arrested them under relevant sections 454, 457 and 380 of the IPC. The accused were identified as Santosh Kamble, Arun Sonkar, Rekha Santosh Kamble, Zulfikar Mansoor, Azad Shah and Shehzad Khan.
Meanwhile, the entire jewellery, along with Rs 8.2 lakh cash and loose change worth Rs 2 lakh, was returned to temple authorities, in time for the Krishna Janmashtami celebrations.
The temple, Shri Gowardhan Nath Ni Haweli, is located in a busy market area and revered by locals. A theft at the temple sparked panic among the local business community as there are several jewellery shops in the area.
Incidentally, Thane Police Commissioner's office is also located within a kilometre of the temple.