Three road accidents in Navi Mumbai in less than 12 hours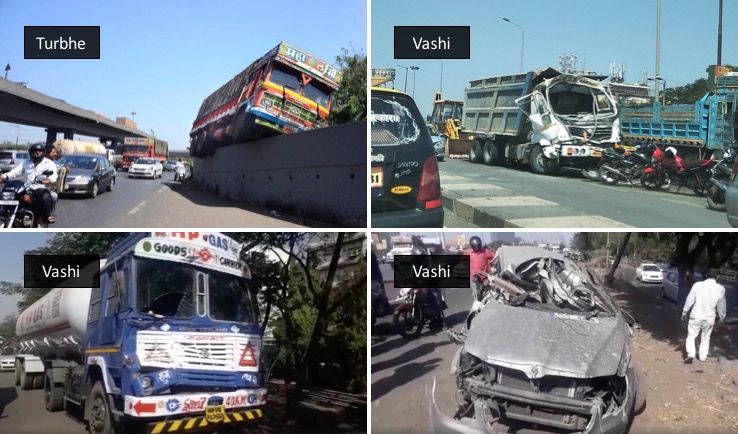 At least seven people were injured in three mishaps that took place in a span of less than 12 hours on Thursday in Navi Mumbai.
Incident 1:
Six people were reportedly injured in a collision between a gas tanker and an SUV at Vashi flyover on the Sion-Panvel highway. The incident took place around 12:30 am, when the tanker rammed into the vehicle ahead of the toll plaza.
According to reports, the injured include the driver of the tanker and the driver and occupants of the SUV, all of whom were rushed to a nearby hospital by officials.
Off the six, two are said to be in a critical condition while the remaining four are stable.
Incident 2:
In the second incident, a total of six vehicles were involved in a pile up after one of the vehicles up-front applied a sudden brake. The mishap, like the previous one, took place at Vashi flyover.
The accident took place around 8:30 am on the Panvel-bound lane, following which traffic police reached the spot and removed the affected vehicles from the road.
Although no one was injured in the mishap, the incident led to some traffic snarls on the busy highway. At least one car was completely totaled after ramming into a heavy vehicle while the rest were damaged.
Incident 3:
In the most recent incident, a truck on its way from APMC Navi Mumbai to Mumbai got stuck on the boundary wall of a bridge in Turbhe around 11 am.
The driver is believed to have lost control of the vehicle, following which he rammed the truck into the divider. The driver sustained minor injuries for which he was treated at a nearby hospital. His condition is now stable.
While prima facie it does not appear to be a case of drunk driving, Sanpada police are in the process of getting a medical done to confirm the same.
Earlier today, traffic movement near Patlipada bridge on the busy Ghodbunder Road in Thane was affected during peak hours due to an oil spill caused by an overturned container.