Update: 22 dead, 39 injured during stampede at Prabhadevi (Elphinstone) station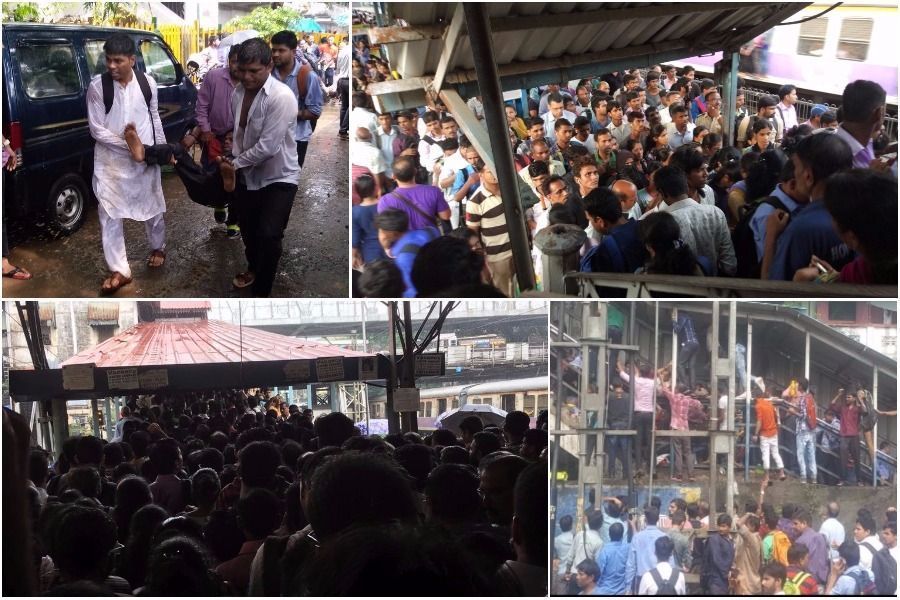 At least 22 people were killed and another 39 injured during a stampede at Mumbai's Prabhadevi (erstwhile Elphinstone Road) station on Friday morning. (Check updates below)
According to initial reports, the stampede took place at the south-end foot-over-bridge around 10:45 am today morning. Eye-witnesses claimed that the stampede was triggered due to a sudden downpour, which caused people to rush for shelter.
Additionally, four trains arrived at the station in quick succession, which further added to the chaos. Police officials tried to control the crowd, but in vain.
Following the incident, Dr Pravin Bangar, Senior Medical Officer at KEM Hospital, confirmed that at least 15 people were declared brought dead at the facility. The names of the deceased individuals is yet to be released.
Meanwhile, another 25 have been reportedly injured and rushed to nearby KEM Hospital for treatment. "Of the injured 20 people have serious injuries, rest have minor injuries. Can't comment more right now," said Niket Kaushik, GRP Commissioner.
The BMC's disaster management team, along with other required agencies, have been mobilised. Senior railway officials have also reached the station to take stock of the situation.
Prabhadevi has witnessed a major surge in the number of commuters in recent years and is among the most crowded stations on the Western line due to its proximity to the commercial and business hubs in Lower Parel.
Incidentally, many commuters have complained about the state of the foot-over-bridge and requested authorities to overhaul the station's infrastructure in the recent past. However, the requests have fallen on deaf ears.
i hve raised a complaint abt #Footover bridge at#Parel stn on Mar16. i hve got reply from railways we will work it on. but not any action. pic.twitter.com/AGPLRzcWIJ

— Vijay Tamrakar (@VijayTamrakar4) September 29, 2017
Further details are awaited.
Update (12:20 pm): Railway officials have asked commuters to avoid using Prabhadevi station and preferably use Dadar or Currey Road stations for the next few hours.
Update (12:22 pm): Elphinstone railway station telephone helplines: 022-24136051, 022-24131419 and 022-24107020
Update (12:28 pm): "Due to sudden rain, people were waiting at the station. When the rain stopped there was chaos to go out, stampede occurred," Anil Saxena, DG PR, Railway told ANI.
Update (12:34 pm): Many eye-witnesses have now come forth and claimed that no official help was made available for around 45 minutes after the incident took place.
Update (12:40 pm): Railway Minister Piyush Goyal, who had arrived in Mumbai earlier to inaugurate new services on WR and CR, is expected to visit the station later in the day.
Update (12:45 pm): Anil Saxena, DG PR, Railway has confirmed that the death toll has risen to 22, which includes 18 men and 4 women, and 27 have been injured.
Update (1 pm): NDRF team has reached Prabhadevi station to aid in rescue efforts.
Update (1:20 pm): "Saddened and shocked to know about the tragic stampede at Elphinstone railway station, foot over bridge" – CM Devendra Fadnavis. The CM has also announced a compensation of Rs 5 lakh for the kin of the deceased. All medical expenses of those injured in the mishap will also be borne by the Government of Maharashtra.
Update (1:30 pm): "Have ordered a high level probe headed by the chief safety officer, Western Railways" – Railway Minister Piyush Goyal.
Update (1:40 pm): Railway Minister, who was supposed to introduce 100 new suburban services today, has delayed their launch indefinitely in the wake of the incident.
Update (1:50 pm): Prime Minister Narendra Modi and President Ram Nath Kovind have offered condolences to the bereaved families and assured full assistance.
Update (2:20 pm): Railway Minister Piyush Goyal, Maharashtra Minister Vinod Tawde and Sena Chief Uddhav Thackeray reach KEM hospital.
Update (6:15 pm):
# An Accidental Death Report (ADR) under sec 174 of CRPC registered at Dadar Police station in connection with the stampede, reports ANI.
# Both Maharashtra Government and Railways have announced ex gratia of Rs 5 lakh each to the kin of the deceased.
# Railway will bear the cost for the treatment of those injured. Further, commuters with serious injuries will get Rs 1 lakh and those with minor injuries will get Rs 50,000 from Railways.
# According to a Railway official, an additional foot-over-bridge has been sanctioned for Prabhadevi station. The tender for the same has also been floated.
# MoS Railways Manoj Sinha stated that the tragic incident took place due to a stampede and that no question has been raised about the structural integrity of the bridge. He also slammed opposition parties for politicising the mishap.
# Photos of deceased individuals has been put up outside KEM hospital. Of the 22 deceased, 19 have been identified so far.
# List of injured commuters admitted to KEM hospital. A total of 39 people were injured.
# Official update from Western Railway about the stampede:
# Visuals from KEM hospital.
#LatestVisuals from KEM hospital where the injured persons are being treated. 22 dead, 39 injured in #MumbaiStampede so far. pic.twitter.com/0g0VNjlndL

— ANI (@ANI) September 29, 2017
---
Videos: (discretion advised)
#Elphinstone
Very sad pic.twitter.com/YzIyVLmigB

— Pankaj Sonawane (@pankaj101010) September 29, 2017
Over 20 ppl got injured in a stampede at Elphinstone railway station of Parel #Mumbai. injured got admitted at KEM hospital. pic.twitter.com/y539r4qoEC

— **aarya** (@dwarkadevils) September 29, 2017
Elphinstone station foot overbridge stampede. This is pathetic. Ppl can't even goto work without risking dying. Received as whatsapp fwd pic.twitter.com/IIz7oVix8k

— Bored Insaan (@Bored_Insaan) September 29, 2017
This report has been covered in a shortened or snippet format to ensure the most crucial information is published in the shortest possible time. The report may be expanded to a full length article if the story develops further or more information becomes available.