Video: CNG blast at Kandivali petrol pump near Milap Cinema, 3 injured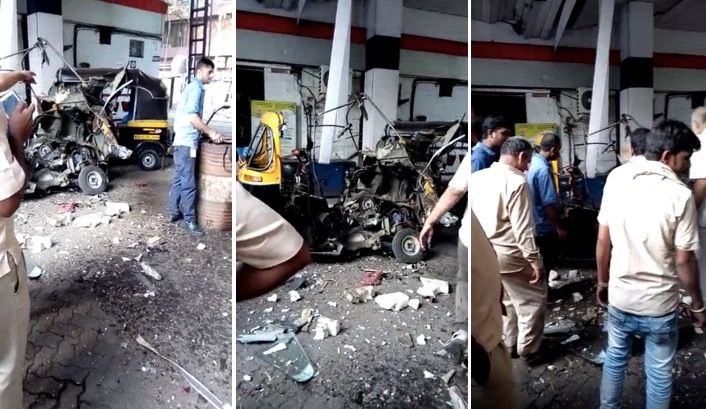 At least three persons were injured following a CNG cylinder blast at a filling station in Mumbai's Kandivali area on Saturday morning.
According to preliminary information, the incident took place around 7:30 am at Kapadia Petrol Pump while an auto-rickshaw was filling CNG. The pump is located on SV Road near Milap Talkies in Goraswadi area between Malad and Kandivali.
Panic ensued after motorists heard a loud noise following a blast in the CNG tank. The resultant fire engulfed parts of the auto and left three persons injured.
The injured persons, reportedly identified as Shailesh Kripashankar Tiwari (25), Anil Shivram More (57) and Sohel Kamal Ahmed Sheikh (57), were rushed to a nearby Tunga hospital for treatment.
Officials said all three sustained injuries but are out of danger. More details about the present condition are awaited.
A team from Mumbai Fire Brigade and Mahanagar Gas arrived at the Hindustan Petroleum (HP) outlet shortly after. By that time, the flames had been doused. However, officials closed the pump as a precautionary measure.
The cause of the blast is not known as of publishing this report and further details about the incident are awaited.
Spot visuals depicting the mangled remains of the auto show the extent of the damage caused by the blast.
The visuals can be deemed disturbing. Viewer discretion is advised.