Video: Drunk Irish passenger abuses Air India crew after they refuse to serve more wine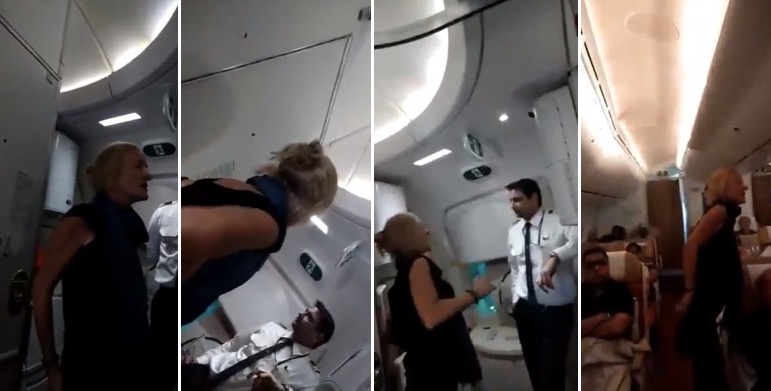 An inebriated Irish business class passenger verbally abused Air India crew onboard a Mumbai-London flight after she was allegedly refused more wine.
The incident, which took place on Saturday, was captured on video by a crew member of AI-131 flight. The clip was made accessible on Wednesday.
In the video shot on-board, the passenger can be heard hurling abuses at the crew member and objecting to not being served more wine.
The woman passenger can be heard saying: "I'm working for all your people. The f*****g Rohingyas, the f*****g people of all Asia, for you, an international criminal lawyer. Don't get any money for it, by the way. But you can't give me a f*****g glass of wine, is that correct?"
According to sources, the passenger consumed several quarters of wine during the course of the flight but kept insisting for more.
The crew informed the flight commander about the situation, who directed them not to serve her any more wine. When the crew told her they could not serve her wine, she created a ruckus.
Apart from the verbal assault directed towards the crew and other business class passengers, the lady also spat on one of the crew members.
The airline has, so far, not issued any statement with regard to the matter. The passenger, meanwhile, was arrested after the flight landed in Heathrow.
Serving drinks on a flight is at the discretion of the crew. If they feel that a passenger is drunk and serving him more alcohol will escalate the situation, the crew is well within their rights to deny drinks.
Video (Strong language, discretion advised):
Irish lady behaves in such an abusive, racist way with @airindiain crew for being refused extra drinks. Very decent AI crew behaviour. Arrested on landing. Wonder if she should have been controlled onboard with handcuffs. @JitiBhargava @Mohan_Rngnathan pic.twitter.com/kSTDmGOEm5

— Tarun Shukla (@shukla_tarun) November 13, 2018