Video: Law student loses control of rented car; crashes into multiple pedestrians, vehicles at Dharavi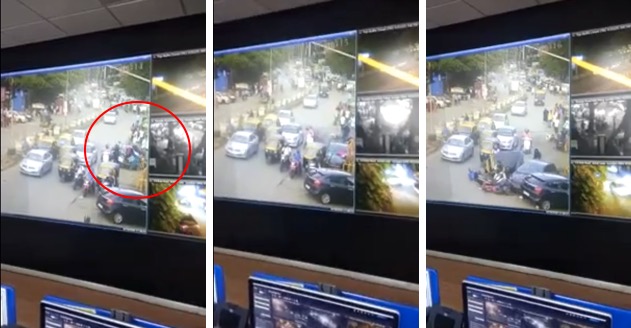 In a tragic incident, a 19-year-old law student crashed into multiple pedestrians and vehicles after losing control of her car in Mumbai's Dharavi area earlier this week.
The incident took place around 5:30 pm on Tuesday, June 19, when the driver, identified as Dhruvi Jain, accidentally hit the accelerator instead of the brake at a traffic signal near Ambedkar Garden.
A CCTV footage captured from the signal shows the car haphazardly speeding, hitting 5-7 people, an autorickshaw, two bikes and a car before coming to a halt. The driver and the passenger both get out of the car amid the ensuing panic and chaos.
In a matter of seconds, a huge crowd gathers at the spot. Some corner Jain, while others rush to the aid of the victims.
At least five people sustained injuries in the mishap and were rushed to Sion Hospital for treatment. Two of them are in a critical condition.
The injured included three persons of a family, identified as Sajida Sameer Khan, her husband Sameer Khan and their toddler son. Bibi Fatima and Arshad Sayed were also injured.
Following the incident, Dharavi police booked and arrested Jain under relevant sections of the IPC and Motor Vehicle Act. She is currently out on bail.
According to reports, the first year law student had rented the vehicle after her father refused to give her his car. The Kalbadevi-resident was heading towards Bandra when the accident took place.
A video of the CCTV footage, captured from the police control room, is now viral on social media.
CCTV footage (Discretion Advised)