Videos of NSG commandos' mock drill in Mumbai going viral with misleading titles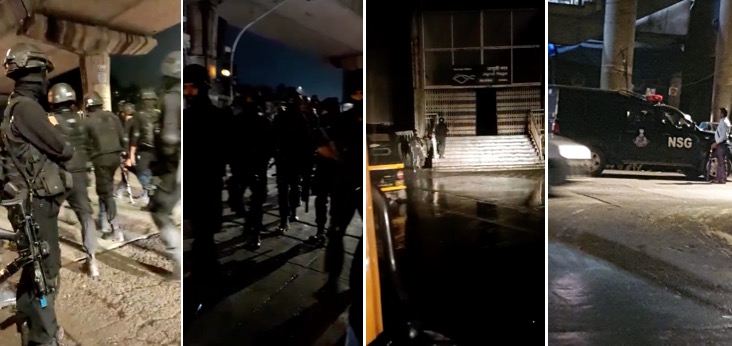 Videos of a mock drill conducted by NSG, in which mission-ready commandos in full combat gear can be seen walking on Mumbai streets, are going viral on social media with misleading titles.
One of the videos shows a group of commandos walking on the highway, purportedly assembling for a mission, while another shows them stealthily entering Jagruti Nagar metro station in Ghatkopar (West).
The videos first surfaced on social media on August 10 and have been shared widely since then, albeit with misleading titles like;
"Mumbai High Alert. NSG Commando Full Security in Metro Station at Asalfa, Sakinaka & Jagruti Nagar (Shiv Shena Branch). Ghatkopar (W). So plz Avoid Crowd Area," and "NSG commandos all over Sakinaka and Jagruti Nagar since last night," among others.
We reached out to Mumbai Police spokesperson DCP Manjunath Singe to get to the truth behind the videos, but are yet to get a response. However, a senior official confirmed that the videos were of a mock drill and not an actual mission.
"Yes, the videos are of a mock drill in Mumbai," a senior Mumbai Police official, on the condition of anonymity, told Local Press Co.
The official, however, did not disclose the date when the drill was carried out, in line with the response from the NSG control room in Delhi.
The drill was conducted by the National Security Guard (NSG), an elite counter-terrorism unit under the Indian Ministry of Home Affairs.
The NSG regularly conducts mock drills as part of their preparedness training to tackle a host of threats. The operations involve multiple agencies and are planned to the minutest details.
Back in April, the agency had conducted a drill to tackle a hostage situation in which commandos used a chopper to evacuate people from a particular floor of the RBI building in Mumbai.
The visuals of casual onlookers and passing vehicles in the recent videos are telling signs on their own, but one can hardly blame anyone for being too cautious in the wake of the abrogation of Article 370 and impending Independence Day celebrations.
The timing of the video also coincides with another viral clip, in which a retired Brigadier Hemant Mahajan is urging citizens to stay alert.
Unfortunately, that video is also being shared out of context. The message accompanying it incorrectly attributes it to Mumbai Police Commissioner and warns of 'Mumbai under terrorist attack'.
"Total Mumbai under terrorist attack. Please be careful. All railway stations. All bars and cinema halls. Auditoriums. All public places. Please forward to all groups. Jay Hind. Jay Maharashtra. Stay at home do not venture out for few days," reads one of the messages.
Unsurprisingly, there has been a meteoric rise in the number of misleading videos on social media since last week after the government revoked special status to Jammu & Kashmir and split the state into two Union Territories.
Meanwhile, on the basis of intelligence inputs, all defence and security forces have been put on high alert to deal with any possible misadventure ahead of or on August 15.
---
Also Read: Security stepped up at Mumbai Airport, approaching vehicles to be checked 1 km away
---