Viral video leads to arrest: Khar police nabs trio performing stunts at Carter Road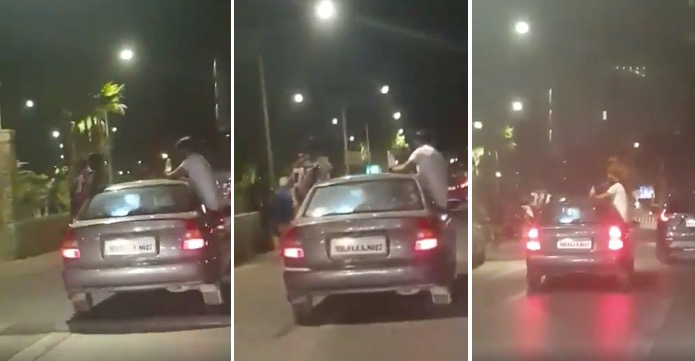 Khar police have arrested three youths, who were caught on camera while performing dangerous stunts in a moving car at Bandra's Carter Road last week.
The incident took place on June 7 and was captured by an alert motorist, who was travelling in another car. The motorist later shared the video on social media.
The video, which quickly went viral, showed three boys sitting precariously on the window frames of the moving car while passing along the Carter Road promenade. One of them was also seen holding a bottle.
After being apprised about the stunt, Khar police registered a case under Section 279 (Rash driving or riding on a public way) and 336 (Act endangering life or personal safety of others) of the Indian Penal Code and Section 184 (Driving Dangerously) of Motor Vehicles Act.
Since the car's registration number was visible, officials traced the owner's address from RTO records and arrested three persons who were performing the stunt. While the driver was not booked, the vehicle was seized.
The accused, identified as Mohammad Shaikh (20), Samir Sahibole (20) and Anas Shaikh (19), were produced before a court, which released them on bail with a warning. All three are second-year students from Govandi.
Mumbai police also left a word of caution for other motorists in order to dissuade them from attempting any similar stunts.
"Lock up, not the red carpet, is the destination of such high rides! Ask those who tried recreating this scene from the silver screen on Carter Road," they posted from their official Twitter handle.
---
Related: Tik Tok star Adnaan Shaikh arrested for performing bike stunts at Bandra Reclamation
---