WEH Woes: Motorists face massive delays as Shivaji Jayanti celebrations, vehicle breakdowns affect traffic flow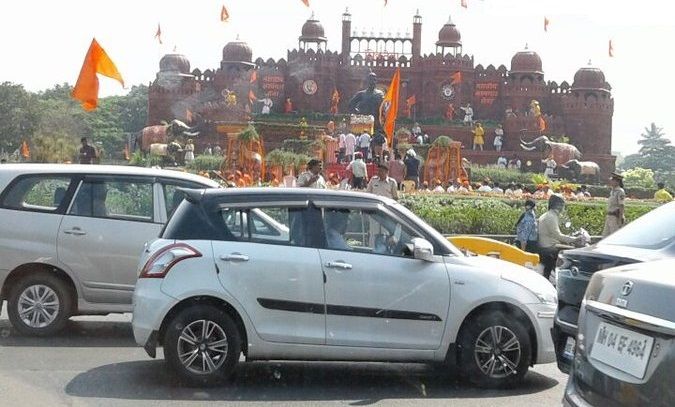 Thousands of Mumbai motorists were left in a lurch on Wednesday morning as vehicle breakdowns and Shivaji Jayanti celebrations near the airport led to massive traffic traffic snarls on the city's busiest road – Western Express Highway.
The 25 km highway, stretching all the way from Bandra to Dahisar, connects the southern part of the city with the suburbs and is used by thousands of commuters everyday due to its proximity to commercial centres, schools, malls etc.
However, traffic on the notoriously busy highway was severely affected on Wednesday morning due to at least three separate instances of vehicle breakdown and Shivaji Jayanti celebrations near Terminal 2 of the Mumbai International Airport.
Between 9 am to 12 pm, at least one private car and two trucks broke down at down on the highway near Santacruz, Kandivali and Andheri, affecting traffic flow on the already congested highway.
The breakdowns, coupled with the lanes closed for Metro construction, led to traffic snarls at multiple narrow junctions.
Meanwhile, the Maharashtrian community also celebrated the birth anniversary of warrior king Chhatrapati Shivaji (Shivaji Jayanti) today.
The city's most prominent political party – Shiv Sena – was at the forefront of Shivaji Jayanti celebrations, installing saffron flags, posters etc to mark the occassion.
In honour of the Maratha king, a replica of Red Fort was also erected behind the statue of Chhatrapati Shivaji Maharaj outside the airport. Sena chief Uddhav Thackeray visited the site earlier today to offer tribute.
On a regular day, the Sena president's visit might not have inconvenienced motorists. However, coupled with the existing peak hour rush and vehicle breakdowns, it only added to the commuter's woes.
By noon, hundreds of affected netizens had taken to social media to share their commute experience.
An examination of a dozen such instances, where people were travelling from their own vehicle or a cab, shows that commuters took approximately 50 percent more time to reach their destination today.
Even the 'Google Maps' screenshots shared by users on social media, which display the approximate travel time, reflect similar delays.
According to a senior traffic official attached with Andheri traffic police, the situation is expected to improve by evening barring any unforeseen circumstances.
Western express highway traffucked. Right from Mira Bhyander to Andheri. Looks like I'll never reach office today. @mumbaitraffic pic.twitter.com/WBNGhfpdBt

— Mrs. Jack Daniels (@EkPegAur) March 15, 2017
@RidlrMUM my home to srpf ground generally about 15-20/minutes..today 64 mins..something terrible ought to have happened..any idea what?? pic.twitter.com/JlSJBH4RIa

— manish (@tiyadec07) March 15, 2017