Amid backlash, Hotstar removes 'Koffee with Karan' episode featuring Hardik Pandya, KL Rahul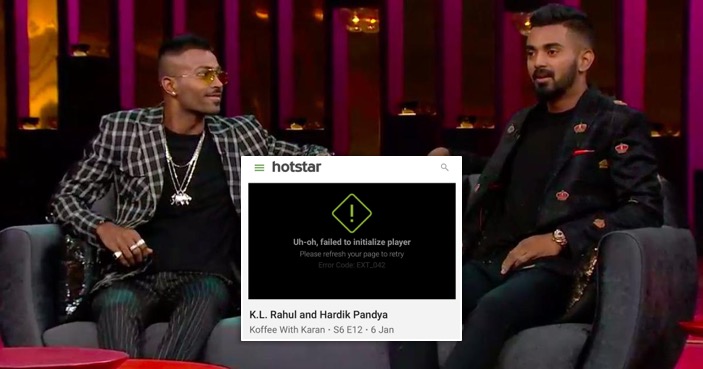 In a first, online streaming platform Hotstar has removed an episode of 'Koffee with Karan' starring Hardik Pandya and KL Rahul after backlash over the cricketers' sexist remarks.
As of Thursday night, the episode starring the duo is no longer available on the streaming platform. Even Star World, which aired the episode on TV, removed all promotional material related to the feature.
"Certain remarks/comments made by the guests on episode 12 of Koffee with Karan may hurt the sentiments of our users/viewers. As a responsible platform, we have removed the episode from Hotstar with immediate effect," Hotstar said in a statement.
Hardik Pandya drew sharp criticism from netizens for his appearance on the show, with several slamming him over his sexist, misogynist and racist remarks. The show aired last Sunday.
"I like to watch and observe how they (women) move. I'm little from the black side so I need to see how they move," Pandya had said on the talk show. He also boasted about his 'scene' with women and how he would casually discuss his sex life with his parents.
After drawing flak for his comments, Pandya was quick to tender an apology.
"After reflecting on my comments on Koffee with Karan, I would like to apologise to everyone concerned who I may have hurt in any way. Honestly, I got a bit carried away with the nature of the show. In no way did I mean to disrespect or hurt anyone's sentiments. Respect," he wrote.
The apology, however, was not enough to sway the Board of Control for Cricket in India (BCCI), which sent the cricketers a show cause notice. While KL Rahul did not make any offensive remarks himself, he was accused of playing along.
Both youngsters could like face a two-match ban on the recommendation of Vinod Rai, the chief of the Supreme Court-appointed Committee of Administrators.
The duo, incidentally, were the first cricketers to ever appear on 'Koffee with Karan', a celebrity chat show hosted by director/producer Karan Johar.