Complete list of 'new and increased' traffic fines approved by Union Cabinet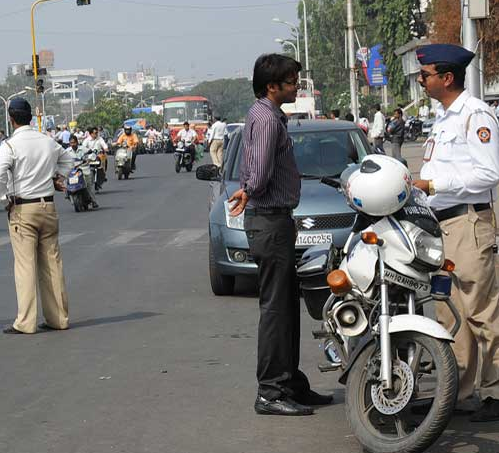 Violation

Old Fine

New Fine

General
Rs 100
Rs 500
Travel without ticket
Rs 200
Rs 500
Disobedience of orders of authorities
Rs 500
Rs 2000
Unauthorised use of vehicles without license
Rs 1000
Rs 5000
Driving without license
Rs 500
Rs 5000
Driving despite disqualification
Rs 500
Rs 10,000
Oversize vehicles
  —
Rs 5000
Overspeeding
Rs 400
Rs 1000 for LMV

Rs 2000 for Medium passenger vehicle

Dangerous driving penalty
Rs 1000
Upto Rs 5000
Druken Driving
Rs 2000
Rs 10,000
Speeding/ Racing
Rs 500
Rs 5000
Vehicle without permit
Upto Rs 5000
Upto Rs 10,000
Aggregators (voilations of licensing conditions)
 —
Rs 25,000 to Rs 1,00,000
Overloading
Rs 2000 and Rs 1000
Rs 20,000 and Rs 2000 per extra tonne
Overloading of passengers
 —
Rs 1000 per person
Seat belt
Rs 100
Rs 1000
Overloading of 2 wheelers
Rs 100
Rs 2000 , Disqualification of license for 3 months
Helmets
Rs 100
Rs 1000 , Disqualification of license for 3 months
Not providing way for emergency vehicles
 —
Rs 10,000
Driving without Insurrance
Rs 1000
Rs 2000
Offences by juveniles
 —
Gaurdian/owner shall be deemed to be guilty.

Rs 25,000 with 3 years imprisonment.

For juvenile to be tried under JJ ct. registration of motor vehicle to be cancelled.

Power of officers to impound documents
 —
Suspension of driving license
Offences committed by enforcing authorities
 —
Twice the penalty under relevant section
The bill provides amendments in various penalties. While the old penalty for violating road rules was Rs 100, the new minimum penalty is Rs 500. Similarly, for speeding the earlier penalty was Rs 400, the new proposed penalties for LMV (light motor vehicle) is Rs 1,000 and for medium passenger vehicle is Rs 2,000.
The new proposed penalty for driving a vehicle without license would go up to Rs 5,000 from 1,000, while the new proposed penalty for dangerous driving would go up to Rs 5,000 from Rs 1,000.
To help road accident victims, Good Samaritan guidelines have also been incorporated in the Bill.
"We expect that the amendment Bill would be taken up in Parliament next week. These reforms would completely transform the transport sector while strengthening roads safety," said road transport and highways minister Nitin Gadkari.